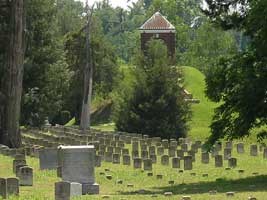 After the conclusion of the Civil War, the U.S. Army located and exhumed the remains of 300,000 Union veterans buried in the South, then re-interred these remains in national cemeteries established across the country.
The first national cemeteries were created in 1862 by an act of Congress to provide a burial place for "soldiers who shall die in the service of the country." At the time, this provision applied only to the Union war dead; however, following the Spanish-American War, veterans of later wars also qualified for burial in national cemeteries.
Vicksburg National Cemetery lies on ground once manned by the extreme right of Major-General William T. Sherman's XV Army Corps, facing the extreme left flank of the Confederate defenses situated on high ground to the south known as Fort Hill. Embracing 116 acres it is the final resting place of 17,000 Union Soldiers, a number unmatched by any other national cemetery. The cemetery was established in 1866 and burials began in early 1867. Soldiers buried here had originally been interred in scattered locations throughout Arkansas, Louisiana, and Mississippi during the campaign for control of the Mississippi River.