Tour Stop 5 - Stockade Redan Attack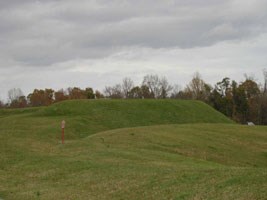 Stockade Redan was a Confederate fortification guarding the Graveyard Road approach to Vicksburg. On May 19, General Grant thought Southern morale to be so low after the defeats at Champion Hill and Big Black River Bridge, he ordered General Francis P. Blair, Jr.'s division to attack the redan. Blair's three brigades advanced over rough terrain obstructed by dozens of felled trees cut by the Confederates to impede any Federal advances. Fresh Southern troops, defended the redan, however, and Blair's operation was unsuccessful.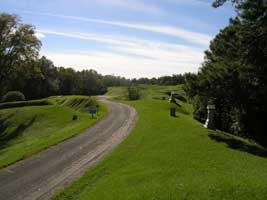 A few Federal soldiers got close to the redan, but Confederate fire pinned them down, and under cover of darkness, the Union soldiers withdrew. Grant still thought that his army could successfully storm the Vicksburg defenses, and three days later, on May 22, he ordered another attack along the entire line. Sherman ordered his men to attack straight down the Graveyard Road to avoid the difficult terrain and Southern obstructions. Additionally, 150 volunteers, carrying wooden planks to bridge the ditch in front of the redan and ladders to climb the wall, went ahead of the Federal infantry.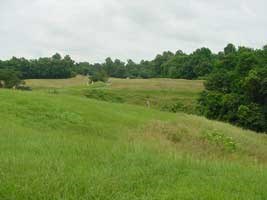 The Confederates held their fire until the assaulting wave neared the redan, then opened with a devastating volley. Still, Union soldiers were able to bridge the ditch and two color bearers planted flags on the redan's exterior slope. But Southern fire was so intense that the Federals soon retreated. Following this repulse of his troops, Grant did not order any additional frontal assaults after the 22 May.
Last updated: April 14, 2015