Tour Stop 3 - Third Louisiana Redan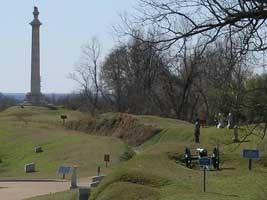 The Third Louisiana Redan was built to help guard the Jackson Road entrance into the city of Vicksburg. The redan was named after the regiment that garrisoned it, the Third Louisiana Infantry. The Confederates were aware of the Union approach trench and mine digging, but despite efforts of sharpshooters, were unable to stop the Federals.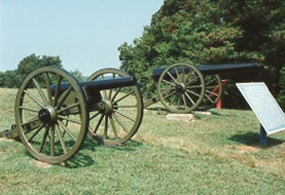 On June 24, 1863, the Union mine reached 40 feet under the redan. It was filled with 2,200 pounds of black powder and at 3:30 pm on June 25, fuses were prepared and the mine was exploded. Simultaneously, Northern artillery and infantry began firing all along the line. The 45th Illinois Infantry spearheaded the attack against the redan where a huge crater (12 feet deep and 40 feet wide) was made. The assault was unsuccessful, however, as the Confederates positioned at the rear of the redan held their ground and the attacking Union soldiers could not advance out of the crater. The next day, Union soldiers withdrew after it was decided that the men could make no further progress and too many lives would be lost if they remained in the open crater.
Last updated: April 14, 2015