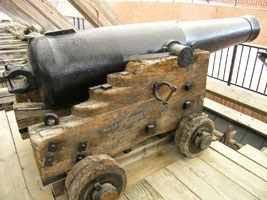 Constructed in a hurry, the US Navy armed the USS Cairo and the rest of the city-class gunboats with what ever armament they could find. Overtime, the original guns would be replaced and upgraded as new pieces became available.
The
USS Cairo
carried thirteen big guns. At the time of it's sinking in 1862, the USS Cairo was armed with three 8-inch smoothbores, three 42-pound rifles, six 32-pound smoothboresand one 30-pound rifle. A 12 pound howitzer was added to reduce the threat of boarding parties, and was not regularly used in combat.
This 32-pdr Navy smoothbore, mounted on its original carriage, could fire a solid 32-pound cannon ball about a mile. It required an eleven man crew to load, maneuver, and fire.