Tennessee Memorial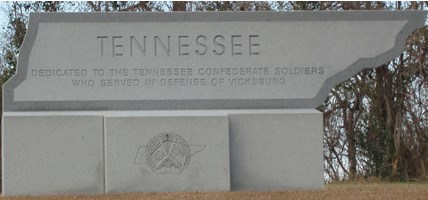 The Tennessee State Memorial is located on the north side of Confederate Avenue approximately .4 miles east of Fort Hill (Park Tour Stop #9).
In 1992 Mrs. Evelyn P'Pool, chairman of the Monument Committee for the Tennessee Division of the United Daughters of the Confederacy expressed an interest to initiate a project to honor the Confederate soldiers from Tennessee who served in the defense of Vicksburg.
The idea was quickly embraced by Mrs. Nelma Crutcher, Division President. Under their enthusiastic leadership the UDC raised sufficient funds to build the Tennessee Memorial. The memorial was erected in June 1996 and dedicated June 29, 1996.
Its design consists of a slab of unpolished granite shaped in the outline of the State of Tennessee, measuring 13 feet, 10 inches by 3 feet, 2 inches by 9 inches. It rests on a granite base measuring 4 feet by 3 feet, 10 inches. The front is inscribed,
























"TENNESSEE, Dedicated To the Tennessee Confederate Soldiers Who Served In the Defense of Vicksburg."
























The back of the memorial reads,
























"Honor to those who never sought it; Fame to those who never wished it; Glory to those who never dreamed it; Immortality, for they earned it - The Confederate Soldiers of Tennessee. Mike Grissom"


























Last updated: April 14, 2015