Rhode Island Memorial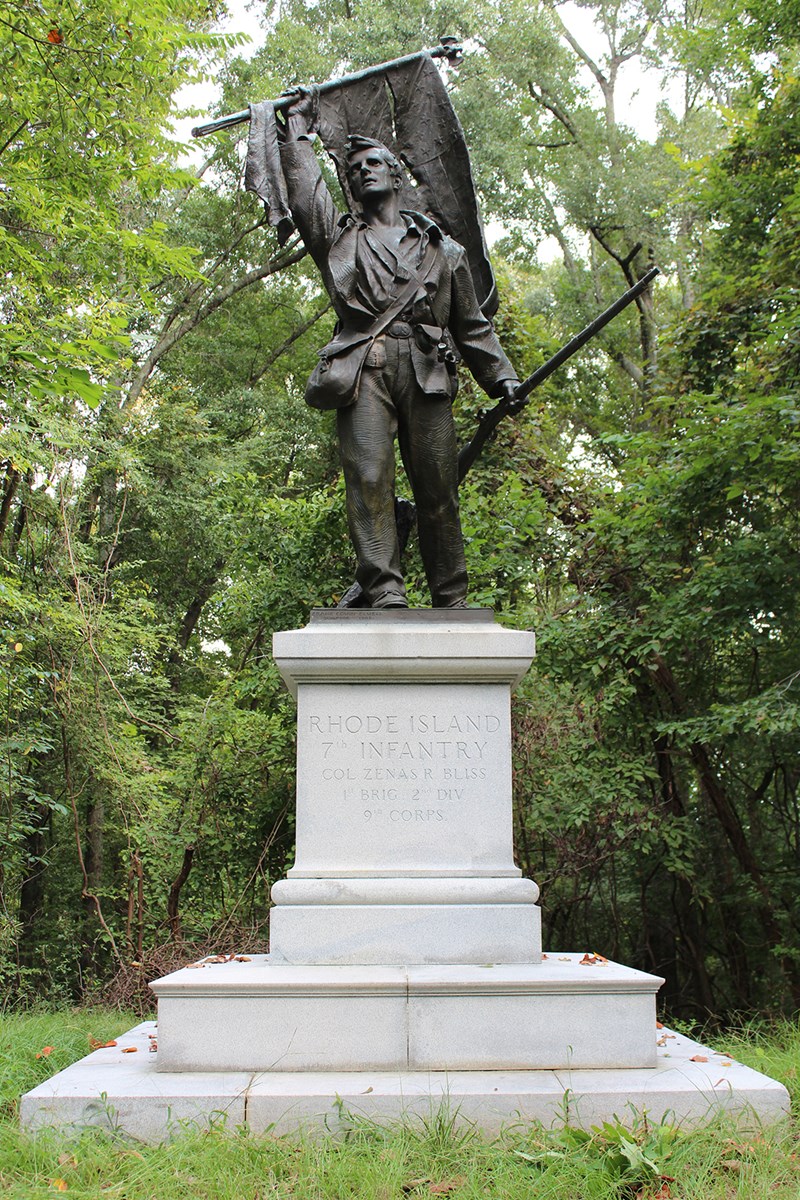 The Rhode Island State Memorial is located on Grant Avenue near Grant's Circle. Known as "the Flag," a lone color-bearer carrying on the memory of the 7th Rhode Island Infantry, the only regiment from the state to serve during the campaign for Vicksburg.

The state of Rhode Island requested and received permission from the then secretary of war, future president William Howard Taft, to commemorate Rhode Island's participation during the Vicksburg campaign. The Rhode Island-Vicksburg Monument Commission was established on July 25, 1906, and immediately began a search for sculptors and companies to produce designs.

Frank Edwin Elwell's design "the Flag," a lone color-bearer carrying the tattered United States flag, was selected in November 1906. The Rhode Island commission did have a stipulation that the granite pedestal would come from Westerly, Rhode Island. The contract was awarded in May 1907. Elwell (of Charles Dickens and Little Nell fame) completed the sculpture and the bronze cast was finished at Gorham Manufacturing Company of Providence with a total cost of $5000 on April 30, 1908.

The statue was unveiled at a brief exhibition at the Gorham site for veterans of the 7th Rhode Island to see it before it was sent to Vicksburg (the granite pedestal had been sent earlier in the year). Arriving in Vicksburg when the weather was growing quite hot, the statue sat until cooler temperatures would allow for "aging veterans" to enjoy the commemoration.

Wednesday, November 11, 1908, in front of a large crowd of dignitaries including the sitting governors of Mississippi (Hon. Edmond R. Noel) and Rhode Island (Hon. James H. Higgins), the statue was unveiled to local school children singing "America" and "Dixie." Dedicated by Walter A. Reid, the monument was accepted by the Federal government and Vicksburg National Military Park commissioner William T. Rigby.

Last updated: August 8, 2019