Missouri State Memorial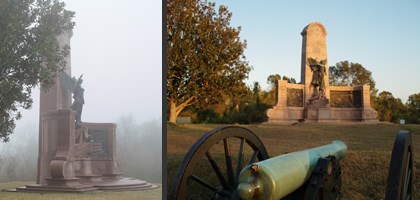 The Missouri State Memorial is located just south of the Stockade Redan on Confederate Avenue, tour stop 10, at milepost 10.9 of the park tour road. It is one of two state memorials on the battlefield dedicated to soldiers of both armies. The height is symbolic of the forty-two Missouri units, 27 Union, 15 Confederate. It stands where two opposing Missouri regiments clashed in battle.
The monument features a bronze figure which represents "The Spirit of the Republic," as well as bronze reliefs depicting both Union and Confederate soldiers. The sculptor was Victor S. Holm. The memorial was erected at a cost of $40,000 and dedicated on October 17, 1917, during the National Peace Jubilee.


Last updated: December 28, 2015