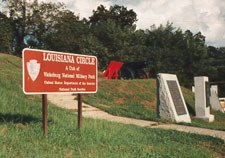 Louisiana Circle is located on Washington Street and overlooks the Mississippi River approximately 1 mile north of Interstate 20. During the siege, Louisiana Circle was called "Battery Barnes". The batteries at Louisiana Circle and South Fort were the southernmost anchors of the Confederate defensive line, and the heavy guns located at these positions had commanding views of the Mississippi River and the Federal naval approaches from the south. Confederate defenders at these locations participated in duels with the Union fleet and land-based artillery.
During the siege the
"Widow Blakely"
was actually emplaced about one mile north of its present location at Louisiana Circle. It was named after its English manufacturer, "Blakely," and called "widow" due to the fact that it was the only Blakely cannon in the Vicksburg defenses. During the siege, a 10-inch Columbiad was positioned at the present-day Louisiana Circle.