Surrender Interview Site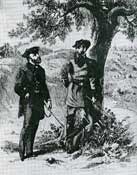 By the end of June, General Pemberton realized his situation was desperate. The hope of relief by General Johnston's army had quickly disappeared. Over 10,000 soldiers in Pemberton's Army of Vicksburg were incapacitated due to illness, wounds, and malnutrition. His supplies and munitions were at critically low levels. He learned that Grant was preparing for another massive assault on the Confederate works in early July.
After a meeting with his division commanders, Pemberton concluded that surrender was inevitable. On the morning of July 3, 1863, he gave orders to display a white flag of truce, and sent representatives to deliver a message to General Grant proposing a meeting to discuss surrender terms. Grant agreed and at 3:00 p.m., Generals Grant and Pemberton met under the shade of an oak tree midway between the opposing lines.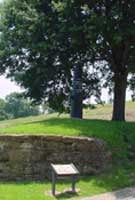 The commanders could not reach an agreement, but discussions among subordinate officers, and an exchange of notes between Grant and Pemberton late in the day, brought about agreement for final terms of surrender.

The next morning, July 4, the Confederate defenders marched out of their trenches, stacked their arms, and were paroled. After 47 days, the siege of Vicksburg was over.

The last 'wallpaper' edition of the Vicksburg Citizen, still set on the presses when Grant's troops entered the city, stated:

"Ulysses must get into the city before he dines in it. The way to cook a rabbit is 'first to catch the rabbit, &c..."

A 'Note' added by the Federal forces which entered Vicksburg on the 4th continued:

"Two days bring about great changes. The banner of the Union floats over Vicksburg. General Grant has 'caught the rabbit.' He has dined in Vicksburg and he did bring his dinner with him..."

Last updated: February 23, 2018