Grant's Army Pushes Inland (May 2-11)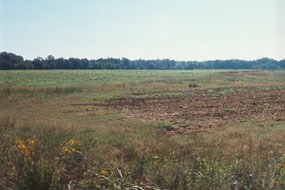 To support the army's push inland, Grant established a base on the Mississippi River at Grand Gulf. Contrary to assertions by modern-day historians, the Union army relied heavily on the Grand Gulf supply base to sustain its movements in Mississippi. Only after reaching Vicksburg and re-establishing contact with the fleet on the Yazoo River, did Grant abandon this vital supply line.
Instead of marching directly on Vicksburg from the south, Grant marched his army in a northeasterly direction, his left flank protected by the Big Black River. It was his intention to strike the Southern Railroad of Mississippi somewhere between Vicksburg and Jackson. Destruction of the railroad would cut Pemberton's supply and communications lines, and isolate Vicksburg. As the Federal force moved inland, McClernand's Corps was positioned on the left, Sherman's in the center, and McPherson's on the right. The further Grant pushed inland, the more exposed he was to attack. He would eventually
meet a Confederate Army on the field of Raymond, MS.
Last updated: February 15, 2018