First Assault on the Vicksburg Defenses (May 19)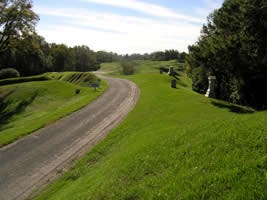 Anxious for a quick victory, Grant made a hasty reconnaissance of the Vicksburg defenses and ordered an assault. Of his three corps, however, only one was in proper position to make the attack — Sherman's corps along the Graveyard Road, northeast of Vicksburg. Early on the morning of May 19, Union artillery opened fire and bombarded the Confederate works with solid shot and shell.
With lines neatly dressed and their battle flags blowing in the breeze above them, Sherman's troops surged across the rugged terrain at 2:00 p.m., through abatis (obstructions of felled trees) laid out by the Confederates, toward Stockade Redan. Although the men of the 1st Battalion, 13th United States Infantry, planted their colors on the exterior slope of Stockade Redan (a powerful Confederate fort which guarded the road), the attack was repulsed with Federal losses numbering 1,000 men. The 13th US Infantry, still in existance today, proudly uses the motto "First at Vicksburg."
Determined, General Grant
would attempt to breach the lines again on May 22nd.

Last updated: February 1, 2018