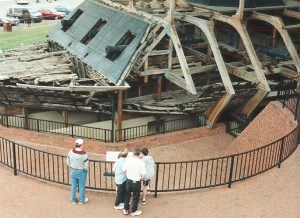 On December 12, 1862, the
USS
Cairo
was busy clearing Confederate torpedoes (today called underwater mines) from the muddy Yazoo River. Upon hearing small arms fire, Commander Selfridge thought his vessel was under attack and ordered
Cairo
into position. Two Confederate sailors, Acting Masters Zedekiah McDaniel and Francis M. Ewing, names now lost to history, hid behind a river bank and waited as the
Cairo
maneuvered to the front of the flotilla.
At the right moment, the two Confederates detonated the torpedoes with an electric charge. Two explosions ripped a large hole in the port bow causing the
Cairo
to quickly fill with water. Within 12 minutes, it sank to the bottom in six fathoms (36 feet) of water, but with no loss of life. The
USS Cairo
became the first armored warship in history to be sunk by an electronically detonated mine.