Edmund Kirby Smith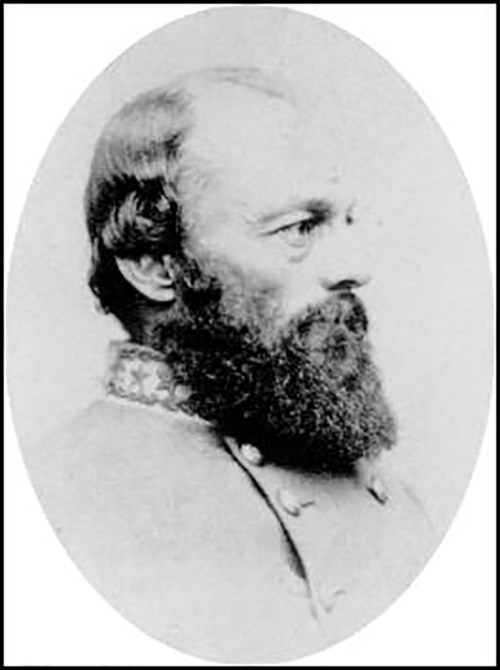 Born in Florida in 1824, Edmund Kirby Smith came from a military family. His father had been a hero of the War of 1812 and his brother, serving by Edmund's side, had died during the Battle of Molino del Ray. Devoted to the Union cause, Edmund abruptly resigned his commission for the Confederacy.
After attending a military boarding school in Virginia, Edmund received an appointment to West Point in 1841. Graduating in the middle of his class, Smith went back to his native state of Florida to serve in the Second Seminole War. When the Mexican-American War erupted, Edmund served under both General Zachary Taylor and Winfield Scott.
After the war, Brevet Captain Edmund Kirby Smith returned to West Point as a mathematics instructor, then transferred to the 2nd US Cavalry for active field command, serving with other future Union and Confederate generals. After recovering from wounds received fighting the Comanche in southwest Texas, and with his native state of Florida seceding, Smith resigned his commission in March 1861 to join the Confederacy.
Promoted to Brigadier General in June 1861, Smith commanded a brigade at the First Battle of Bull Run, where he was severely wounded. While convalescing, Edmund was assigned command of the Department of Middle and East Florida. The following October, he was promoted to Major General and commanded a division in the Army of Northern Virginia. In February 1862, Smith went west to Chattanooga to take over the Department of East Tennessee. Smith's lackluster performance in Confederate general Braxton Bragg's invasion of Kentucky that culminated in the Battle of Perryville, a battle Smith was negligently absent from.
During the Vicksburg campaign, Smith was in charge of the Trans-Mississippi department, overlooking Arkansas, Western Louisiana and Texas. As Ulysses S. Grant's army was maneuvering through Mississippi, Confederate Lieutenant General John C. Pemberton requested assistance and reinforcements from Smith's department. The vastness of his department, and a lack of men and material, limited what Smith could provide.
However, Major General Richard Taylor and Brigadier General John G. Walker's forces were sent to disrupt Grant's operations. Walker's division was split to attack Young's Point and Milliken's Bend, Louisiana in June 1863. At Milliken's Bend, a desperate assault by "Walker's Greyhounds," against untrained, inexperienced and recently organized African American Union regiments. The "colored" regiments determined defense at Milliken's Bend was a catalyst in American public opinion that "black soldiers" will fight.
Edmund Kirby Smith remained in the Trans-Mississippi department for the remainder of the Civil War, being the last Confederate general surrender his forces in Galveston, Texas, in May 26, 1865. Smith fled to through Mexico for Cuba to escape potential charges of treason. He returned in November 1865 to take an oath of amnesty. After the war, Smith tried and failed as a president of a telegraph company and then opened a preparatory school in Kentucky that burned down. He received a position as chancellor of the University of Nashville, a position he retained for five years. Smith accepted a professorship of mathematics and botany at the University of the South at Sewanee, Tennessee, which he served in until dying from pneumonia in 1893.
There is no monument for Edmund Kirby Smith at Vicksburg National Military Park.
Last updated: December 3, 2018