Connecticut State Memorial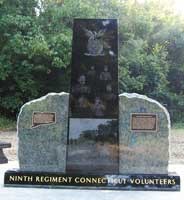 The Connecticut State Memorial is located at the Grant's Canal Site, near Delta, LA, and represents the contributions of the Ninth Regiment Connecticut Volunteers.

Known as Connecticut's Irish Regiment, due to its predominant makeup of soldiers born in Ireland, the Ninth was mustered in at New Haven, CT, in September 1861. In December, the 845-man regiment arrived at Ship Island, MS, and was among the first Union troops to enter new Orleans, LA, after the city surrendered in April 1862. Two months later, the Ninth was part of the expeditionary force led by Gen. Thomas Williams that steamed up the Mississippi River in the first Union campaign to capture Vicksburg. Lacking sufficient numbers for an assault or siege, the troops were put to work excavating Williams' Canal in an attempt to bypass Vicksburg and restore unfettered navigation of the Mississippi.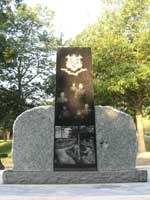 The Ninth Connecticut arrived at De Soto Point, opposite Vicksburg, on June 25, 1862, and began felling trees, cutting roots, and turning dirt. Supply problems, lack of drinking water, and temperatures that reached above 100 degrees took a heavy toll as malaria, dysentery, and heatstroke spread throughout the command. With the river level dropping and troops incapacitated by heat and disease, the canal project was abandoned on July 24, far short of completion. Some 153 men of the Ninth died within a four-month period following their arrival at the canal. While the Ninth saw no further action at Vicksburg, it participated in the Battle of Baton Rouge in August, and was then assigned to defenses in the New Orleans area.

At a cost of $50,000, the monument was designed by Mathieu Memorial and Granite Works of Southington, CT, in conjunction with Royal Melrose Granite of Cold Spring, MN, and is sculpted of polished gray and black granites, sitting on a concrete plaza showing the outline of the State of Connecticut. Through the artistry of Stacy Mathieu, etching artist, and Kerry Sheldon, image artist, the monument depicts etched photos of members of the Ninth Regiment, and scenes of their participation in the Campaign for Vicksburg. The memorial was dedicated on October 14, 2008.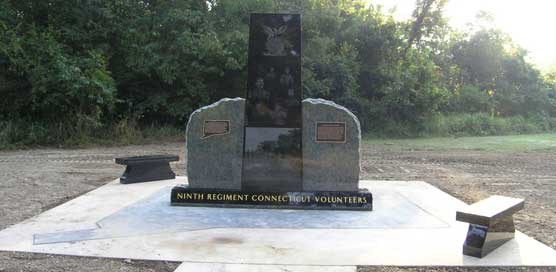 Last updated: April 14, 2015