Confederate Parole Records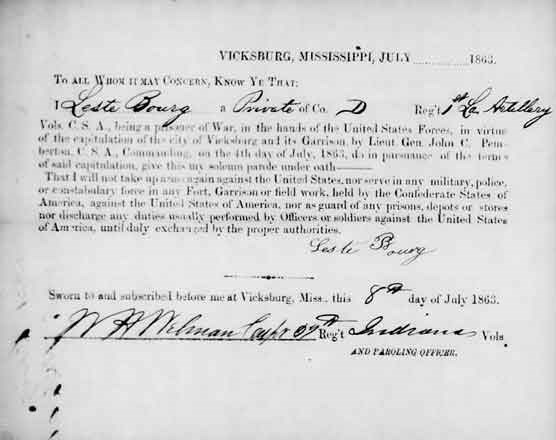 At the end of the siege of Vicksburg, surrender terms negotiated between General's Grant and Pemberton allowed for the parole of the Confederate garrison. The Union forces did not have to contend with prisoners of war.
Confederate soldiers signed a parole notice promising not to take up arms against the United States until they were exchanged by the proper authorities. The Confederate Parole records which are listed in this section were transcribed many years ago onto 3" x 5" note cards. The information was again transcribed into computer files for use on this website. It is the only information the park has in its files relating to soldiers that were paroled after the surrender of Vicksburg.
The park DOES NOT own or have access to copies of the original documents. All archival materials are contained in the U.S.National Archives collections. National Archives and Records Administration, General Reference Branch, 7th and Pennsylvania Avenue NW, Washington, D.C. 20408. Information on how to search for these and other Civil War records can be found on the National Archives site on the
Genealogists/Family Historians
page.
Last updated: August 24, 2018