African-American Monument
The African-American Monument is located on the south side of Grant Avenue between milepost 4.3 and 4.4. Erected by the State of Mississippi at a cost of $300,000, including $25,000 contributed by the City of Vicksburg, the sculpture is the work of Dr. Kim Sessums, from Brookhaven, Mississippi. The monument consists of three bronze figures on a base of black African granite — two black Union soldiers, and a common field hand. The field hand and one soldier support between them the second soldier, who is wounded and represents the sacrifice in blood made by black soldiers on the field of battle during the Civil War. The field hand looks behind at a past of slavery, while the first soldier gazes toward a future of freedom secured by force of arms on the field of battle.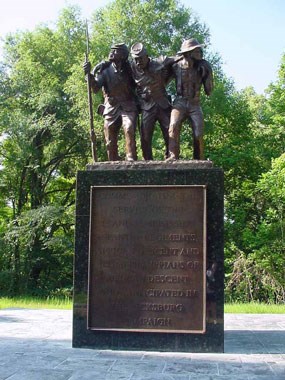 By the end of the Civil War, over 178,000 black soldiers saw service with the Union army, while as many as 18,000 African-Americans joined the Union navy. The Confederate Armies would rely heavily upon slave-labor for intrastructure projects, such as constructing earthworks, fortifications, and other support functions.
African-American participation in the Civil War had far-reaching effects and implications for the black servicemen themselves, their white comrades in arms, and the society of which they were struggling to become a part and gain respect. The campaign, siege, and defense of Vicksburg provides two of the earliest instances of African-American soldiers serving in combat during the Civil War. At Port Hudson in May of 1863, and Milliken's Bend the following month, African-Americans proved their mettle on the field of battle, thus quieting some of their harshest critics and winning the confidence of others. The contributions of those men, and others like them who served both North and South either enslaved or free during the Vicksburg campaign is commemorated on the grounds of Vicksburg National Military Park by the erection of the Mississippi African-American Monument.

Last updated: November 26, 2019