2nd Missouri Light Artillery, Battery F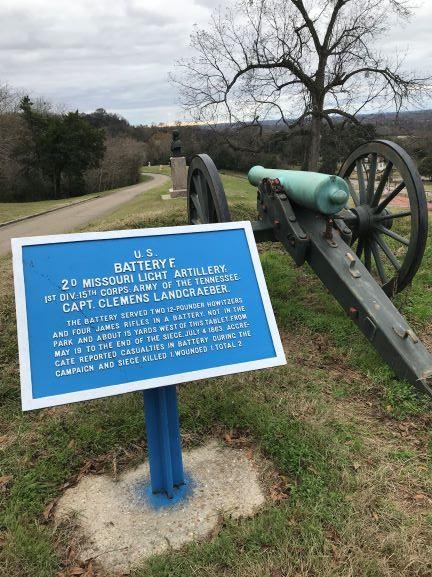 Multiple monument located on the south side of Union Avenue, approximately 0.2 miles west of the Navy Memorial (Tour Stop 7), and an iron tablet located on the north side of Union Avenue approximately 0.1 mile west of the Navy Memorial.
This unit was attached to Maj. Gen.. Frederick Steele's and Brig. Gen. John M. Thayer's 1st Division, of Maj. Gen'ls William T. Sherman's and Frederick Steele's XV Army Corps, and commanded by Capt. Clemens Landgraeber.
Tablet inscription reads:
"U.S.
Battery F.,
2d Missouri Light Artillery;
1st Div.; 15th Corps; Army of the Tennessee.
Capt. Clemens Landgraeber.

The battery served two 12-under howitzers
nd four James rifles in a battery, not in the
park and about 15 yards west of this tablet. From
May 19 to the end of the siege, July 4, 1863. Aggre-
gate reported casualties in battery during the
campaign and siege: killed 1, wounded 1. Total 2."
Last updated: December 14, 2018