1st Missouri Light Artillery, Battery F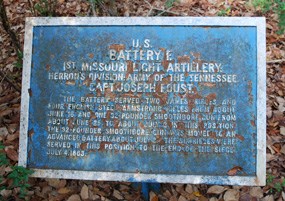 Monument (damaged by vandalism) and iron tablet located at Iowa Circle on old Iowa Avenue (behind present-day WalMart).
This unit was attached to Brig. Gen. William Vandever's 1st Brigade, of Maj. Gen. Francis J. Herron's unattached Division, Maj. Gen. Ulysses S. Grant's Army of the Tennessee and commanded by Capt. Joseph Foust.
Last updated: April 14, 2015