10th Missouri Cavalry, Company C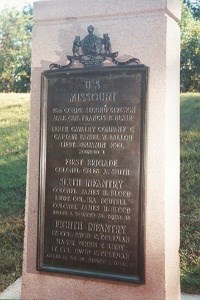 Multiple monument located on Union Avenue, 300 feet south of Graveyard Road.
This unit was attached to Maj. Gen. Francis P. Blair's 2d Division, of Maj. Gen'ls William T. Sherman's and Frederick Steele's XV Army Corps, and commanded by Capt. Daniel W. Ballou and Lt. Benjamin Joel.
Last updated: April 14, 2015