Educator's Guide: The Arts: Singing Soldiers: "The Bonnie Blue Flag"
"The Bonnie Blue Flag"
Words: Harry Macarthy
Music: ''The Irish Jaunting Car"
Excluding "Dixie, " the most popular song in the South and with the Confederate army was "The Bonnie Blue Flag." It was first presented by Marion Macarthy, sister of the author and "Arkansas comedian," at the Varieties Theatre in New Orleans for one of Harry's Personation Acts. " Troops en route to Virginia sang it at the New Orleans Academy of Music in September, 1861. The flag was displayed at the Mississippi Convention of January 9, 1861 which passed the act of secession, and the delegates chanted the new air. The words tell the story of secession and reveal the "temperament of the states at war" and invite other states to join in. The tune is an old Hibernian melody. Brander Matthews tells us when General Butler was in command of New Orleans, he "made it very profitable by fining every man, woman or child who sang, whistled or played it on any instrument $25.00, besides arresting the publisher, destroying the sheet music and fining him $500."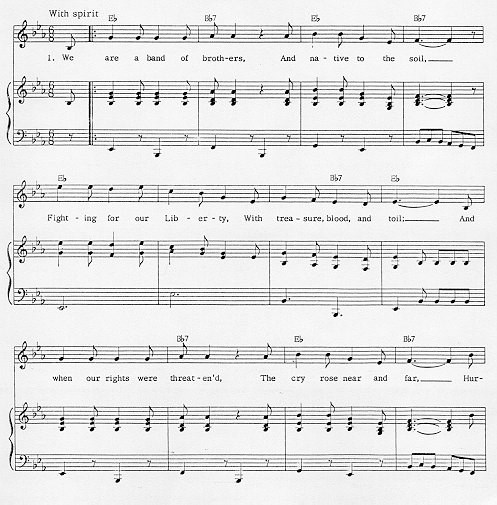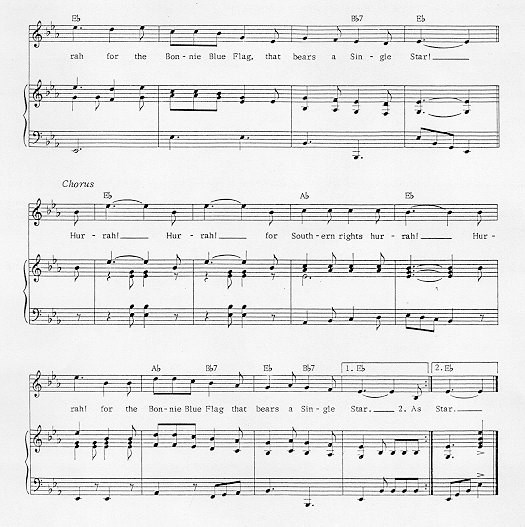 Last updated: April 14, 2015