Collections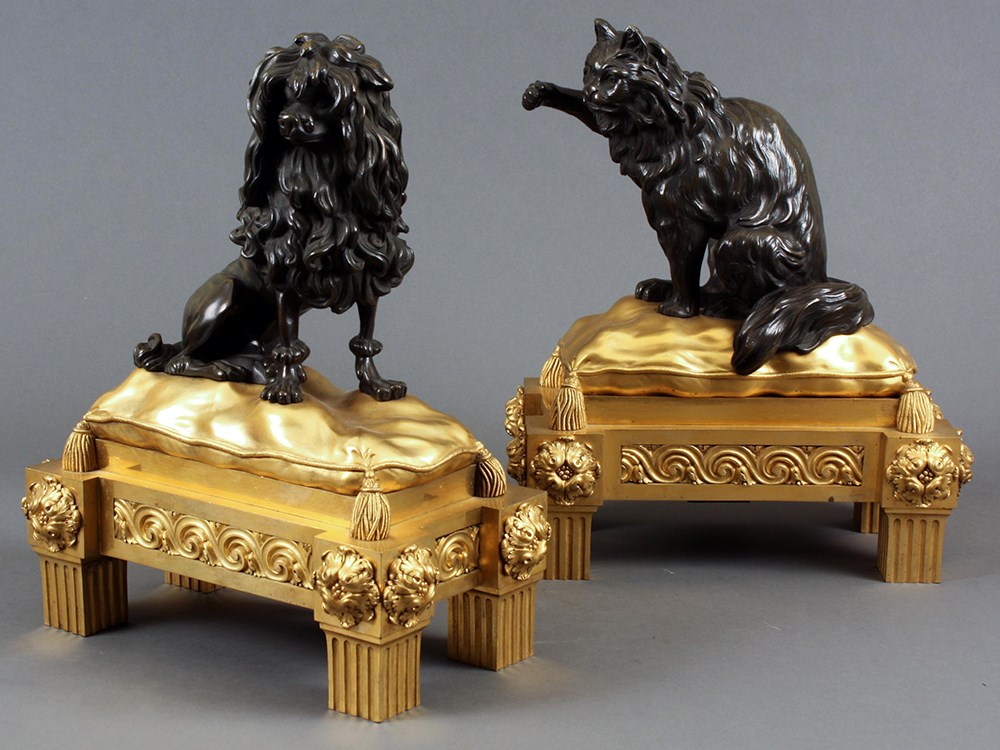 The museum collections for Vanderbilt Mansion National Historic Site number approximately 6,500 artifacts and include furniture, ceramics, glassware, paintings, tapestries, sculpture, automobiles, carriages, sleighs, and personal items ranging from antiquity to the 19th centurty. About 40 percent of the collections are on permanent exhibit in the Vanderbilt Mansion. Objects in storage are available for research by appointment. For inquiries or to make a research appointment, conact the collection manager by email.
The park gratefully accepts donations to the museum collection. For inquiries and information on our collecting policy, follow the link to our Donations to the Museum Collection page.
Selections from the Museum Collection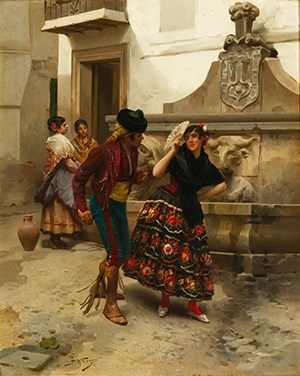 Courtyard Scene by Jules Worms (1832-1914). Worms studied at the École des Beaux-Arts and made his debut at the Paris Salon of 1859. Worms is best known for genre scenes depicting Spanish life, painted in a highly realistic manner with many details and bright colors. In the early 1860s, Worms made his first trip to Spain, where he was immediately enchanted with Spanish culture and customs. Worms returned for six extended trips between 1860 and 1882, traveling widely, sketching and acquiring costumes for his studio in Paris. One of the leading realists of his generation, Worms' paintings were popular in both France and the United States. Worms died in Paris at the age of 91 on November 25, 1924.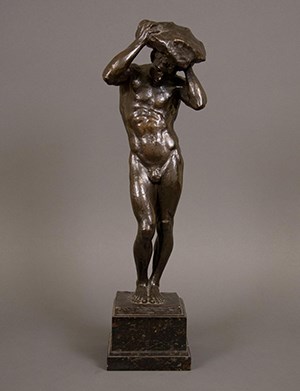 Gertrude Vanderbilt Whitney (1875-1942).
Caryatid
. Influenced by the work of French sculptor Auguste Rodin, this bronze cast the original figure was a study for one of three standing male nudes supporting the basin of a large marble fountain now at McGill University in Montreal, but originally designed for the Arlington Hotel in Washington, DC. The title of the statuette, "Caryatid," describes the figure's function as an architectural support, but its gender makes it more associated with Atlas. In 1913, it was awarded Honorable Mention at the Paris Salon, and received the National Arts Club Prize of the Association of Women Painters and Sculptors in 1914. Several castings of the single "Caryatid" are known and in the collections of the Whitney Museum of American Art, The Metropolitan Museum of Art, and Newport Mansions. Gertrude Vanderbilt Whitney was the daughter of Corneilus Vanderbilt II and Alice Claypoole Gwyne and married Harry Payne Whitney. Sculptor, art patron and collector, she founded the Whitney Museum of American Art in 1931.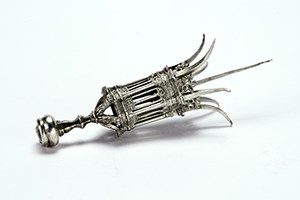 Tiffany & Co. Sterling silver, thought to be a cigar piercer modeled after a lantern on the Strozzi Palace, Florence.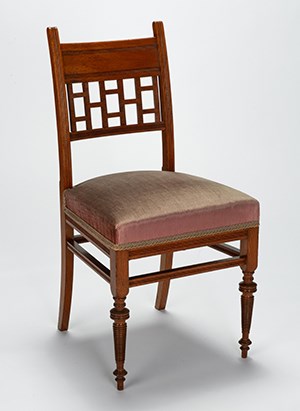 Herter Brothers. Oak side chair with salmon velvet (or mohair) upholstered seat and Chinese-style trelliswork back, turned front legs. Herter Brothers executed a number of variations of this chair. The firm of Herter Brothers was founded by German immigrants Gustave (1830–1898) and Christian Herter (1839–1883) in New York City and became one of the first American firms to provide complete interior decoration services.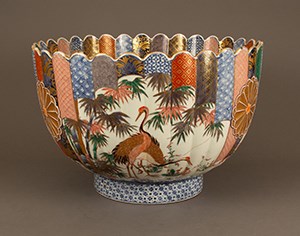 Imari Bowl. A massive fluted bowl with scalloped edge divided into 30 panels painted with diaper motifs in the Imari-style palette, with three doubled sixteen-petal gold chrysanthemums and scenes depicting cranes in flight, blossoms, and trees alternating around the sides (interior and exterior) and a single chrysanthemum painted in the center. Imari is a style of porcelain named after the Japanese port from which it was shipped to the West, beginning in the late 17th century. Exotic landscapes, gnarled trees, long-winged birds such as cranes, and depictions of courtesans in exquisitely detailed kimonos are just a few examples of the most common Imari imagery.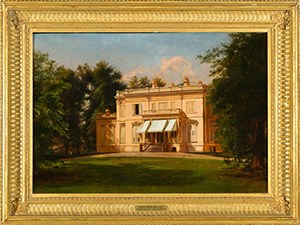 Johann Hermann Carmiencke (1810-1867), "Hyde Park (The Langdon House)." Carmiencke was born in Hamburg, Germany. He studied art in Dresden, Copenhagen, and Leipzig. He became a citizen of Denmark (and was appointed court painter to Christian VIII, King of Denmark), but by 1848 immigrated to Brooklyn as a result of anti-German sentiment during the war between Denmark and Germany. Carmiencke sketched directly from nature and composed meticulously executed views in his studio that reflected his European academic training. He painted in the Catskills and Adirondacks and has been associated with the Hudson River School tradition. He was a member of the Artists' Fund Society of New York and the Brooklyn Art Association. He exhibited at the National Academy of Design from 1853-1859, the Pennsylvania Academy of the Fine Arts in 1855 and 1867, the Boston Athenaeum in 1861 and 1862, and the Maryland Historical Society. Carmiencke and twenty-three other artists left the Brooklyn Art Association in 1866 and founded the Brooklyn Academy of Design.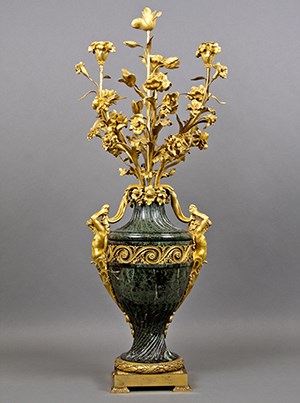 Henry Dasson. A gilt-bronze green marble vase-candelabrum, one of a pair (VAMA 888 and 889). Signed "Henry Dasson et Cie. 1888." Dasson, the son of a shoemaker, was famous in the second half of the 19th century for his copies of 18th-century French furniture and household goods, particularly for the fine execution of his gilt-bronze decorations. His workshop created desks, tables, and chests inspired by the style of Louis XIV, Louis XV, and Louis XVI, styles popular among the American millionaires at the turn of the century. Dasson was a member of the Legion of Honor. Dasson exhibited his works in the Universal Expositions of 1878 and 1889 in Paris as well as in other European expositions. The Vanderbilt Mansion collection includes numerous examples of Dasson's work.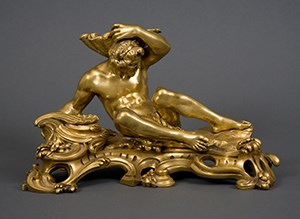 Paul Sormani (1817-1877), Rococo-style gilt-bronze figural inkstand (ecritoire) in the form of a reclining river god with shell-shaped, hinge-lided inkwell. Stamped "P SORMANI PARIS" on base. Born in Venice in 1817, Sormani was one of the most important French cabinetmakers of the 19th century specializing in fine luxury furniture often copied directly from well-known examples from the Louis XIV and Louis XV periods. Sormani exhibited at expositions in Paris in 1849, 1855, 1862, 1867, 1878 and 1900, and in London in 1862, winning numerous medals. Sormani's furnishings were fashionable among European nobility and the American millionaire. His popularity soared after Empress Eugenie, wife of Napoléon III, commissioned him to decorate the royal palace. Numerous examples of Sormani's furniture are seen throughout the Vanderbilt Mansion rooms.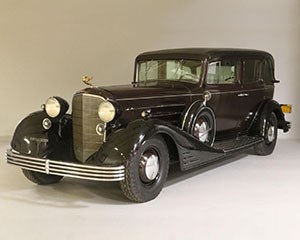 It was the Great Depression, but luxury cars were still king, for those who had the means. Frederick Vanderbilt's 1933 V-16 Cadillac is a sleek, modern statement of machine age design, carefully detailed and refined. Cadillac built only 300 V-16s during 1932, a huge drop from the nearly 3,000 built in the enthusiasm of 1930. Production never recovered, making Frederick Vanderbilt's 1933 model a rare automobile. Learn more.
Last updated: January 27, 2021