For Kids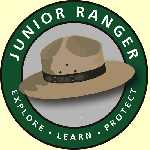 Junior Ranger Program
The park offers free Junior Ranger programs for children ages 5 and up. Youth will complete activities as they visit the house, explore the museum, and visit with park staff. After finishing the program requirements, the child is sworn in as a Junior Ranger and receives a special badge. Check in with the staff at the information desk to get a booklet and get started on this fun program!

There is also a Junior Ranger patch available for sale at the information desk.
Junior Ranger Archeology Program
Are you interested in Archeology and are at least 6 years old? The Midwest Archeological Center offers a Junior Ranger Archeology Program. The workbook is offered on their website and can be completed at home. Click here to go to their website.



Last updated: April 4, 2018