Grant Bicentennial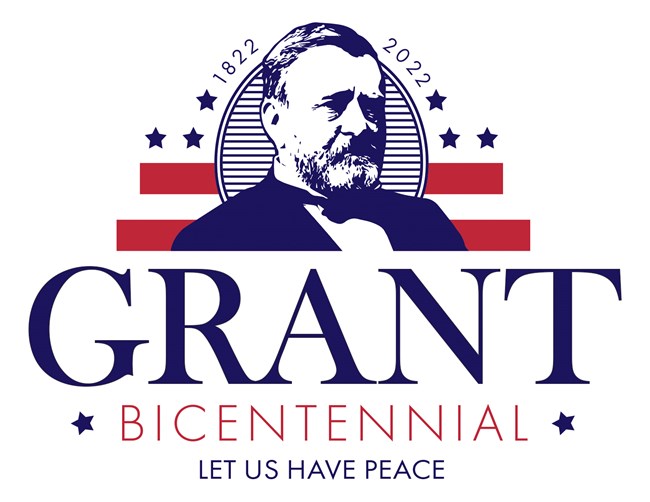 Celebrating Ulysses S. Grant's 200th Birthday
Most people know Ulysses S. Grant as the nation's highest ranking general during the American Civil War and a two-term president during the Reconstruction Era. He was also a loving husband, devoted father to four children, and a man dedicated to his country and the ideals of a More Perfect Union. Grant is one of the most important figures of 19th Century U.S. history and his legacy is complex, remarkable, and inspiring.

Join Ulysses S. Grant National Historic Site in 2022 as we commemorate the 200th birthday of Ulysses S. Grant. The park will host more than 15 in-person programs throughout the year to comemmorate the Bicentennial and educate people of all ages about Grant's legacy.

Any questions about Bicentennial programming can be directed to the park's Program Manager at 314-842-1867 ext. 223. The park's program calendar will be updated frequently. Read about the activities and events below to learn more about the bicentennial events at Ulysses S. Grant National Historic Site!

To learn more about national efforts to commemorate the Grant Bicentennial, visit the Ulysses S. Grant Association's website.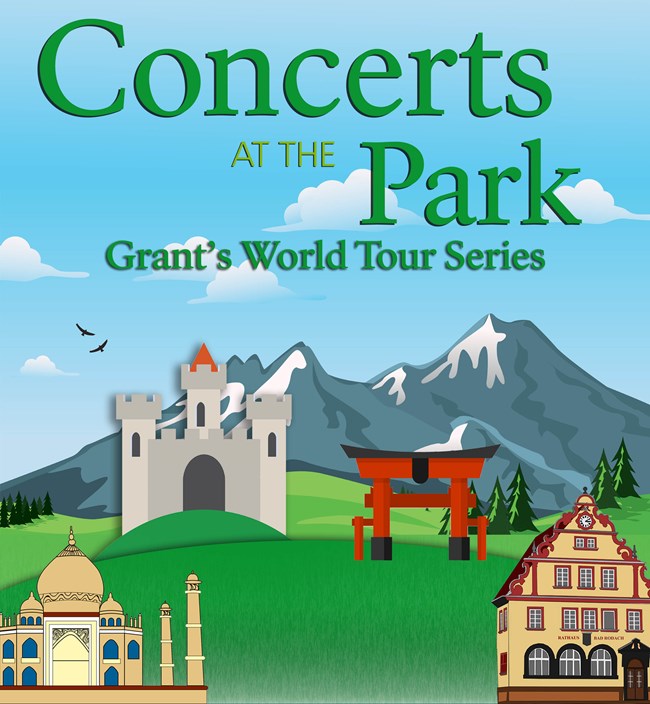 FREE LIVE MUSIC THIS SUMMER
Bring a lawn chair or blanket and enjoy a free concert on the lawn, featuring music by Bring a lawn chair or blanket and enjoy a free concert on the lawn.
June 16 Sangeetha: Indian Classical Music & St. Louis Chinese Traditional Music Ensemble
July 21 Celtica
August 18 St. Louis Klezmer Quartet
September 15 Waterloo German Band
All concerts begin at 7 PM.
Outside food and beverages are allowed on the park grounds. (Glass is prohibited.)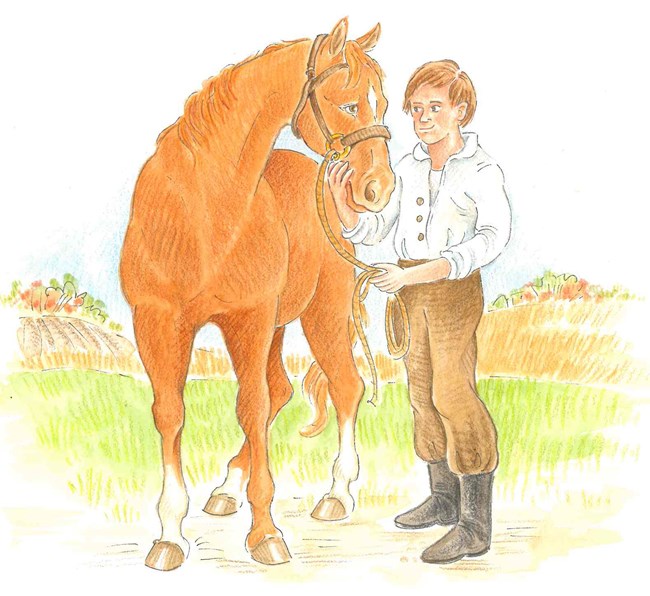 Grant and Horses at White Haven
Saturday, June 25 (new rescheduled date)
10:00 am – 4:00 pm
Throughout Grant's life, horses played an important role. He loved to ride, train, and care for horses from the time he was a young boy. Horses were also vital to him as a soldier and farmer. At this event, visitors will learn more about horses and Grant's relationship to them throughout his life. Numerous horses from area ranchers and individuals will be at the park providing both formal and informal demonstrations. We will also have presentations on Grant's horsemanship, saddles, history of racing, and hands-on activities for children.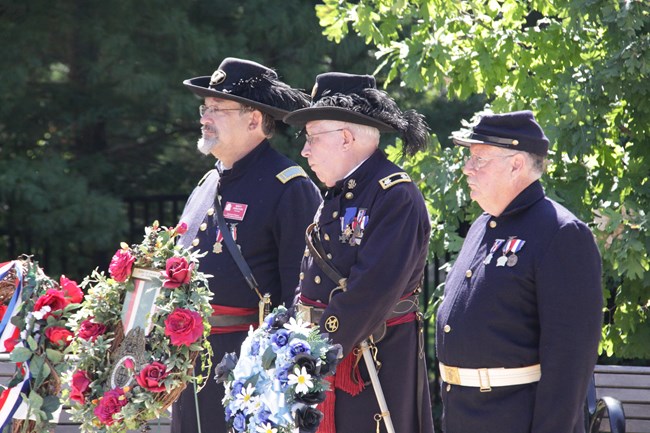 U.S. Grant Death Day Commemoration
Saturday, July 23, 2022
10:00 AM – 12:00 PM
The Sons of Union Veterans Ulysses S. Grant Camp #68, in partnership with Ulysses S. Grant National Historic Site, will be performing a death commemoration ceremony to mark the 136th anniversary of President Grant's passing. The program includes speeches, a wreath laying ceremony, and a 21-gun salute. This event will take place outdoors.
ACTIVITES TO CELEBRATE GRANT'S BICENTENNIAL
Visit our keyboard shortcuts docs for details
Duration:

16 minutes, 15 seconds
Ulysses S. Grant lived in many places throughout his lifetime. In this video, learn about eleven historic sites around the country where people can visit to learn about Grant's life and legacy.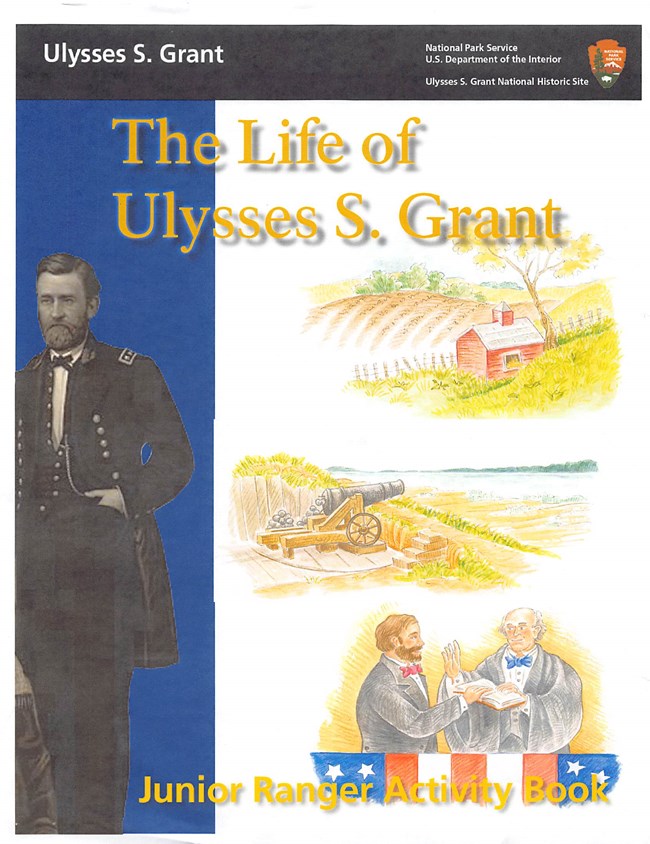 Grant Bicentennial Junior Ranger book with commemorative Junior Ranger badge
Kids, of all ages, can earn a commemorative US Grant 200 Junior Ranger badge by completing special Junior Ranger booklet that explores all aspects of Grant's life. The booklet includes a variety of activities on Grant's early life, early military, life as a farmer, the Civil War, his presidency, his love of horses, his world tour, and his memoirs and memorialization. It's a beautiful book filled with original colorful illustrations, primary documents, historic images, and a kid-friendly story of Grant.
The book is available at the park's visitor center. To receive an electronic copy, please
email
the program manager for interpretation and education, or complete the
Virtual Bicentennial Junior Ranger booklet
online.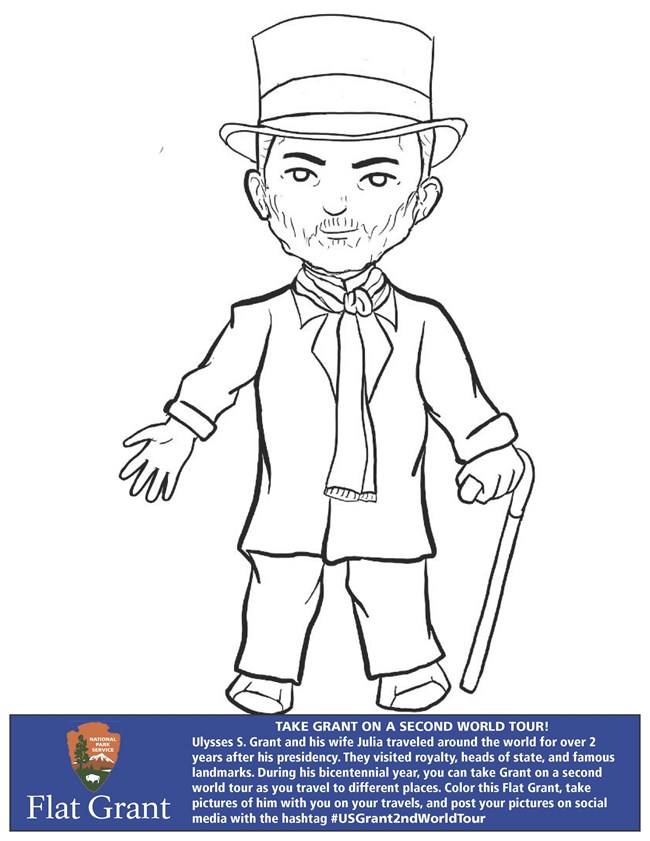 Take Grant on a Second World Tour
Ulysses S. Grant and his wife Julia traveled around the world for over two years after his presidency. They visited royalty, heads of state, and famous landmarks. Pick up a "Flat Grant" at the park's visitor center to color and take him with you on your travels during his Bicentennial year. Or,
print one out!
(200k PDF) Share selfies with Flat Grant on social media with #USGrant2ndWorldTour
Civil War Weekend – Appomattox
Saturday, April 9 and Sunday, April 10
10:00 am – 4:00 pm
A living history weekend commemorated the 157th annniversary of General Grant's acceptance of General Lee's surrender at Appomattox Court House, the event that has been considered the ending of the Civil War. Included in weekend event were presentations on the surrender, soldier encampments, historic weapons demonstrations, civilian presentations, a demonstration on 19th century photograph, children's activities, and information on researching your Civil War ancestors. Dan Haughey presented a first person, one-act play "Mr. U.S. Grant: A Man & A Patriot!"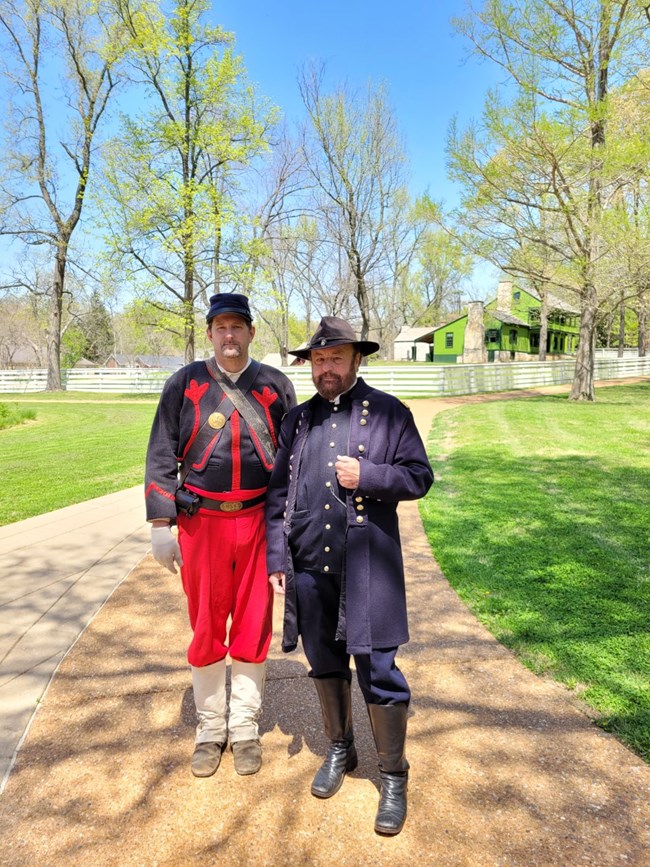 Grant's 200th Birthday
Wednesday, April 27
9:00 am - 12:30 pm
We celebrated the 200th birthday of Ulysses S. Grant with a variety of activities and presentations. Suzanne Corbett, food historian and culinary instructor, provided a program on 19th century cakes and desserts in the dining room of White Haven. Park Ranger Nick Sacco and Ulysses S. Grant Association board member John Samson gave presentations on Grant in the park's theater. General Grant (Stan Prater) meet with visitors on the park grounds and posed for pictures. The programs were presented in partnership with the Ulysses S. Grant Association/Mississippi State University.
Throughout the day individuals decorated cards for residents in Missouri veterans' homes, in honor of Grant's bicentennial. This is an on-going activity and visitors can color a card when they stop by the Visitor Center. That evening, the Independent Silver Band performed on the park's ground for a one-hour concert.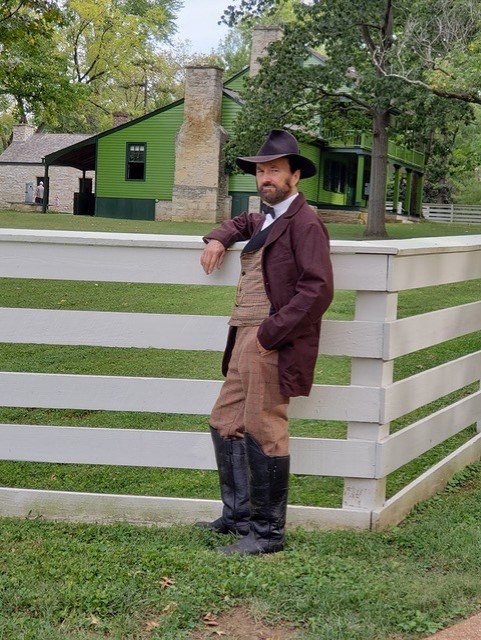 Captain Grant: The Desperate Years:
Performance by Curt Fields
Tuesday, May 17 – 7 pm
Well-known Grant performer Curt Fields gave a first-person interpretation of Ulysses S. Grant's difficult years at White Haven from 1854 - 1860.
After his resignation from the Army, he returned to White Haven to be with his family. His plan was to provide for his family as a farmer but was not successful. He tried to find other sources of income. His time as a real estate agent/businessman was brief and not profitable. Even though he was qualified, the Board of St. Louis County Commissioners rejected his application for St. Louis County Engineer. When he did get a job as a clerk in the customs house, after only a few weeks, his benefactor died and so did his job. Grant even resorted to selling firewood in St. Louis.
He had been on a steady financial decline since leaving the Army and was deeply in debt and in desperate straits by 1860 when he was finally able to secure a job from his father in Galena, Illinois, as a store clerk.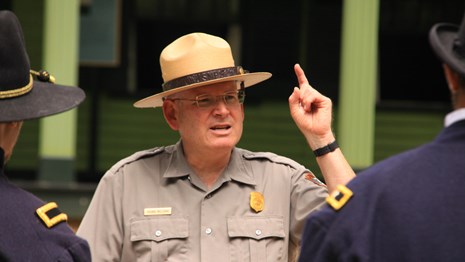 Photos & Multimedia
Watch virtual tours of White Haven, videos about Ulysses S. Grant's life and times, and view a number of image galleries.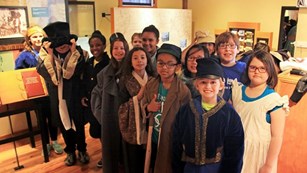 Education
We offer a range of educational opportunities for schools, including field trips, virtual presentations, and curriculum materials.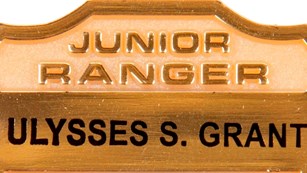 Kids & Youth
Learn about the Junior Ranger Program, work on virtual activities, and check out new children's programming at the park.
Last updated: June 23, 2022