Meet the Social Media Team
Social Media has become an important tool for sharing information, updates, and most importantly, connecting with you, the visitor! Our rangers are constantly out in the park giving tours and talks, or walking the grounds answering questions for the public. Many times you will see us with a camera or phone in our hands to take pictures! But, we are not just taking selfies, oh no! We are taking photos to share with everyone across our social media platforms. So be sure to follow us so you can see what's going on in the park from anywhere in the world!

Here are the members of our Social Media Team: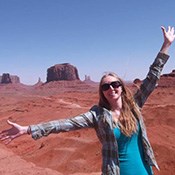 Krystina
Krystina has been working at Montezuma Castle since 2011. She began as a Student Conservation Association intern and became an employee through the Pathways Program for students in 2012. Krystina recently earned her MA in archaeology from Northern Arizona University. Her thesis, "Same Story, Different Pueblo?" focuses on the interpretation of archaeological sites within the National Park Service in the American Southwest. When she isn't working as a park ranger, she enjoys fiber arts and spending time with her bearded dragon Arnold.
Krystina previously interned with the Flagstaff Area National Monuments (Wupatki, Sunset Crater, and Walnut Canyon) and is an avid supporter of the Passport to your National Parks and Junior Ranger program. She has earned badges from at least 34 parks, so far...
Last updated: June 19, 2021