Park Store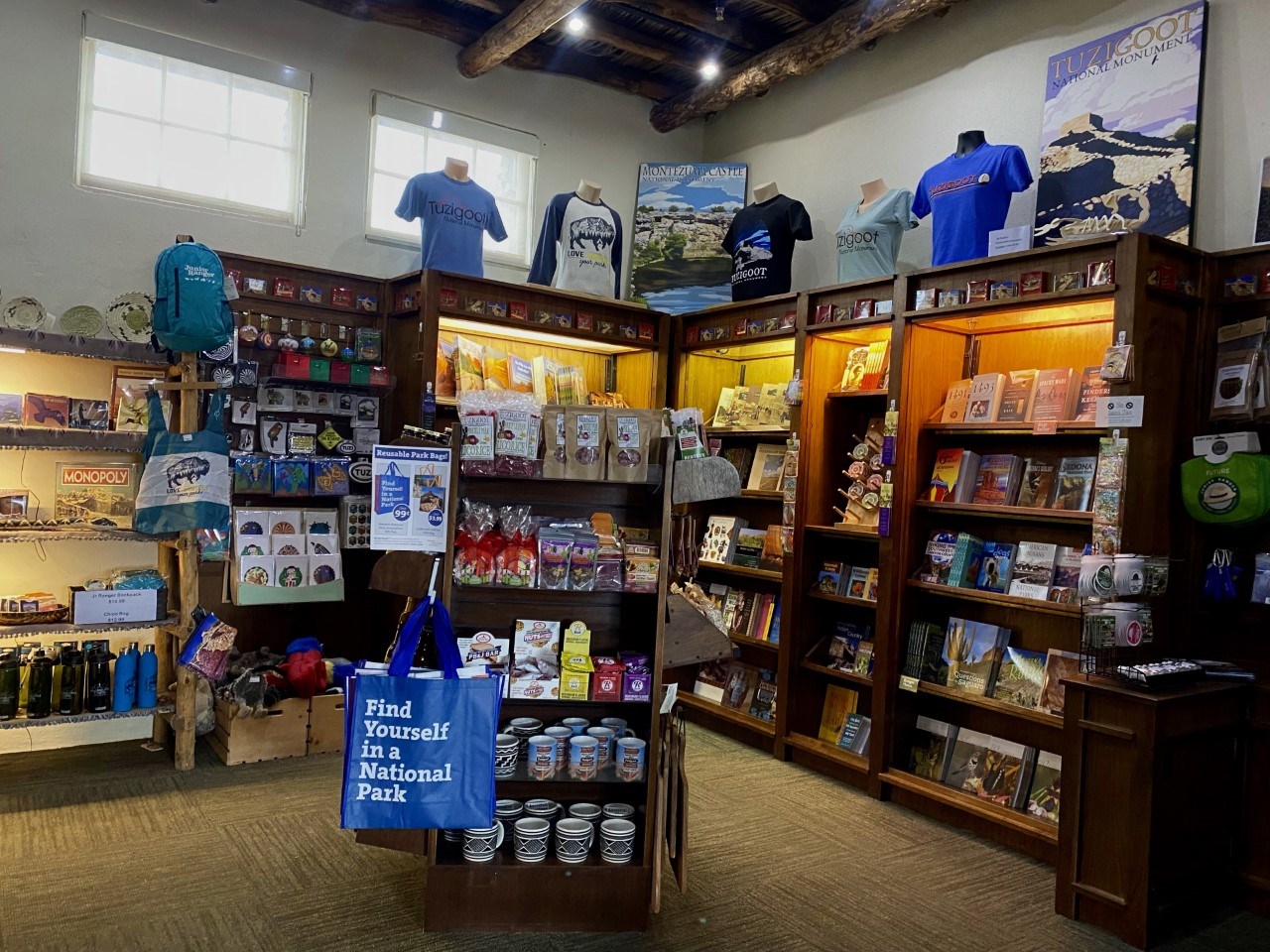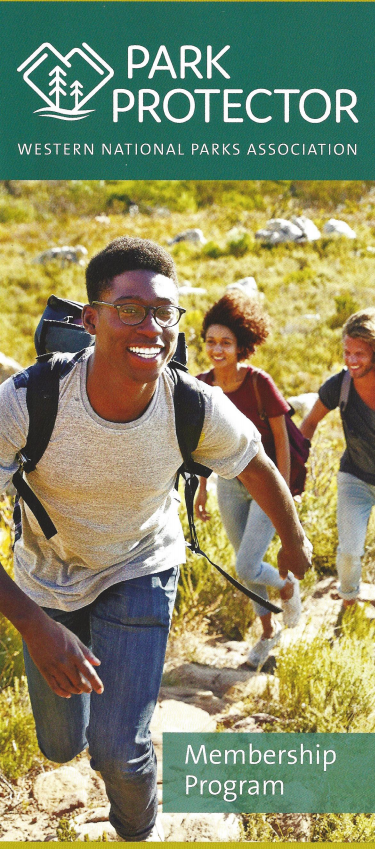 Western National Parks Association
Western National Parks Association (WNPA) is an official nonprofit partner of the National Park Service, with more than 70 park partners in 12 Western states. In partnership with parks since 1938, WNPA advances education, interpretation, research, and community engagement to ensure national parks are increasingly valued by all.The park store has a wide range of books, Native American flutes and craft items, as well as other collectibles that compliment the interpretive themes you experience when visiting Tuzigoot. Some items are also available for purchase online at the WNPA store.
Love National Parks? You're a Park Protector!
Park Protectors support ways to preserve and improve these national treasures for everyone. At only $25/year, your Park Protector membership makes a big impact to national parks all over the Western United States. WNPA fundraising supports national parks by kick-starting scientific research projects in parks, creating educational opportunities for kids and Junior Rangers, promoting a park's story through educational exhibits, and funding community programs and special events. With the help of Park Protectors, WNPA works to expand knowledge and understanding in parks and improve access for those who can't visit in person. Memberships can be purchased in-store or online.

Added benefits to the WNPA membership include:
Access to special members-only deals and merchandise
Digital newsletters featuring park stories, news, and events
Advance email notification of presentations, virtual events, and educational opportunities
10% discount at WNPA stores and online at store.wnpa.org
Reciprocal discounts at 400+ public land sites
Tax-deductible membership dues
Free members-only sticker pack when you sign up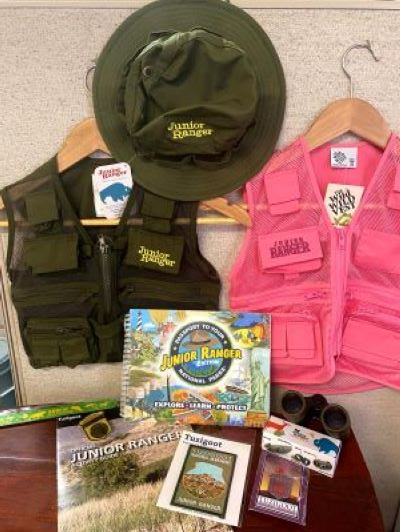 Junior Ranger Gear
WNPA is your one-stop shop for all things Junior Ranger! After picking up your activity book from the rangers, complete your collection with one of our Junior Ranger vests and bucket hats. Decorate your vest with badges and patches from every park you visit, and use the Junior Ranger binoculars to look out for wildlife on the trail! You can even keep track of your adventures with a Junior Ranger passport book, filling it with cancellation stamps at every site you visit. You are never too young -or old- to become a Junior Ranger, national parks need everyone's help in preserving public lands for future generations.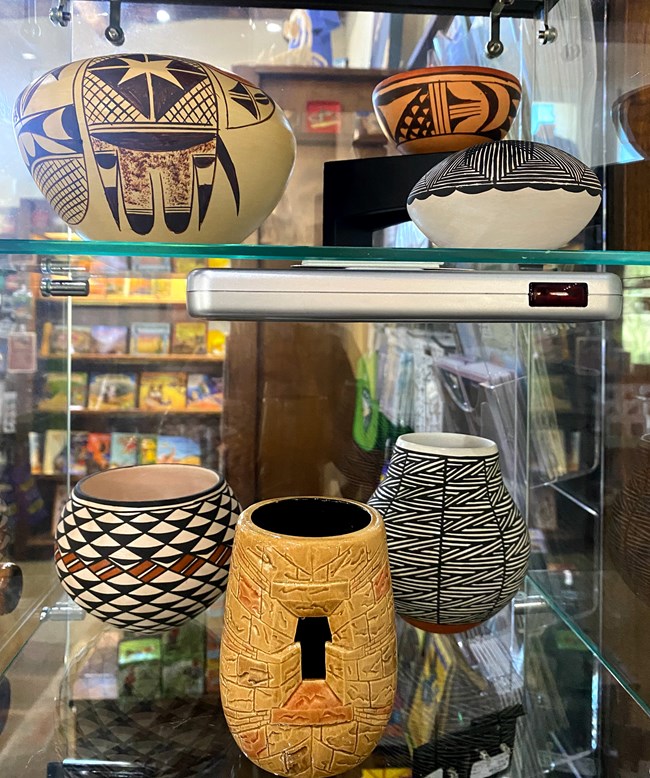 Pueblo Pottery
The Southwest has a vast array of pottery types, each representing a unique culture and artist technique. Pots have held the food and water of native tribes for thousands of years, and is often still made in traditional ways. Pottery is also an extremely important component to archaeology, as it can identify a certain culture in a specific region, down to a specified date range. The WNPA park store carries Hopi, Acoma, and Zuni pottery pieces vailable for purchase.
Hopi
Hopi pottery can be identified by its tan, yellow, and orange bases made from grey and yellow clay. Their dark linework is made using boiled-down beeweed with a yucca paint brush. Hopi pots tend to be squat—seed jars, open bowls, and water jugs are often much wider than they are tall—but the potters do create cylindrical vases as well.
Ácoma
The Ácoma Pueblo sits approximately 60 miles west of Albuquerque, New Mexico, whose people occupy one of the oldest continuously inhabited communities in the United States. Most Ácoma pottery can be identified by its detailed geometric designs, and is molded into a wide array of shapes and sizes. The white clay used as the base is tempered with broken pottery sherds, then coils of clay are layered on top of one another and smoothed to achieve the desired shape. Some pottery is even glazed, as shown in the center bottom pot depicting a prehistoric pueblo room and its iconic T-shaped doorway.
Zuni
Although Zuni tribal members were initially known for their jewelry-making skills, pottery has become just as important in their community within the past century. Their pottery is a unique pink-orange color due to the type of clay found around the reservation. Zuni potters commonly incorporate images of nature, such as birds, dragonflies, lizards, and flowers.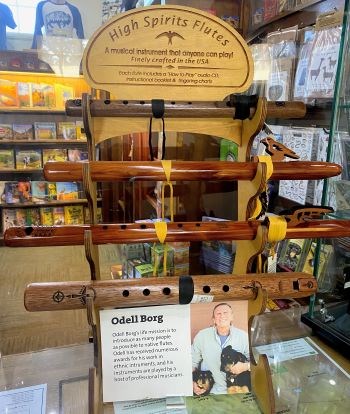 Native Flutes
The native flutes sold by WNPA are great for beginners and produced by High Spirits Flutes, a local Arizona business. The tradition of native flutes goes back thousands of years in the Southwest, often used in celebrations, courtships, and ceremonies by indigenous peoples. Although there are plenty of songs to learn on these exceptional instruments, flute playing is often more about improvisation rather than perfect pitch. This allows each player to develop his or her own style, usually influenced by mood and their surroundings.
We currently carry (from top to bottom) the Kestral "D", Sparrow Hawk "A", Red Tail Hawk "G", and Spirit Flute "E." Native flutes are easy to learn and require no previous musical background. Each flute is also accompanied with a free how-to CD to help you get started! For those looking for new songs to learn, there are also High Spirits songbooks available to expand your style of flute playing.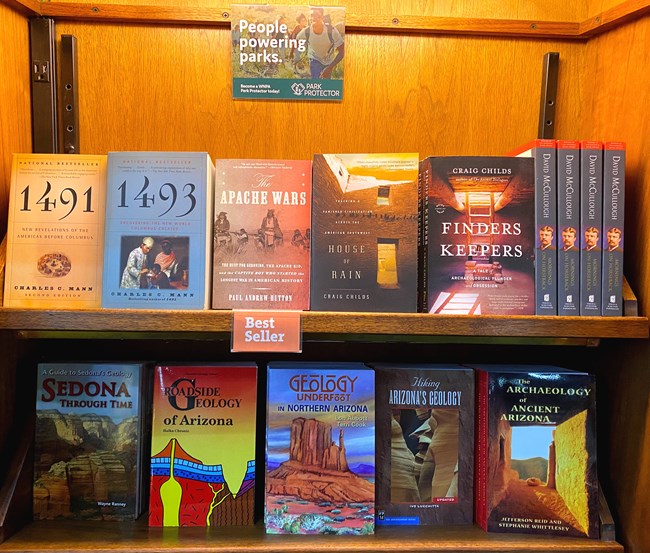 Expand Your Mind
Learning doesn't have to stop once you leave the park, pick up a book on ancient cultures or geology in the Southwest and take the park experience home with you. WNPA is always expanding their collection of books, ranging from field guides to medicinal plant uses, kids books, and historical accounts of the area. Our rangers love reading about the explorations of Craig Childs in
House of Rain
, and often refer to
Amphibians and Reptiles in Arizona
for lizard and snake identifications.


Last updated: November 12, 2021