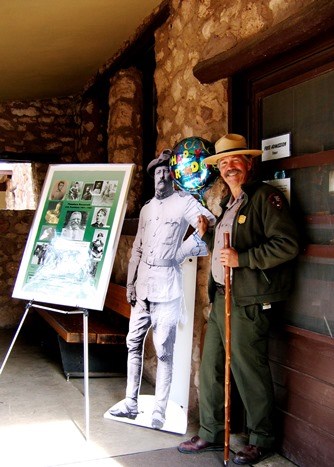 The site of Tuzigoot near Clarkdale was proclaimed a National Monument 75 years ago and park ranger John P. Reid has been there for almost half of that time! His era of park interpretation and stewardship at Tuzigoot comes to an end this month when he officially retires to travel and visit, "some of the other parks and places I need to see while I now have the time!"
John Reid has been in one park, caring for Tuzigoot since 1982, but the Clarkdale resident also comes from a family with a legacy of travel, and John grew up in beautiful locales all over the country. John's father, also named John, worked for the Civilian Conservation Corps in California and then was employed by for U.S. Forest Service in the state of Washington where he also met John's mother, Frances, who was from a many-generation Pacific Northwest family.
After WWII John's father was employed as a guide at Carlsbad Caverns, New Mexico. Mr. Reid then joined the U.S. Border Patrol, and over the years the family moved approximately every two years, living in Salinas, Ca., south Texas, Chicago, back to El Paso, Alaska and finally to Nogales, AZ.