The Battle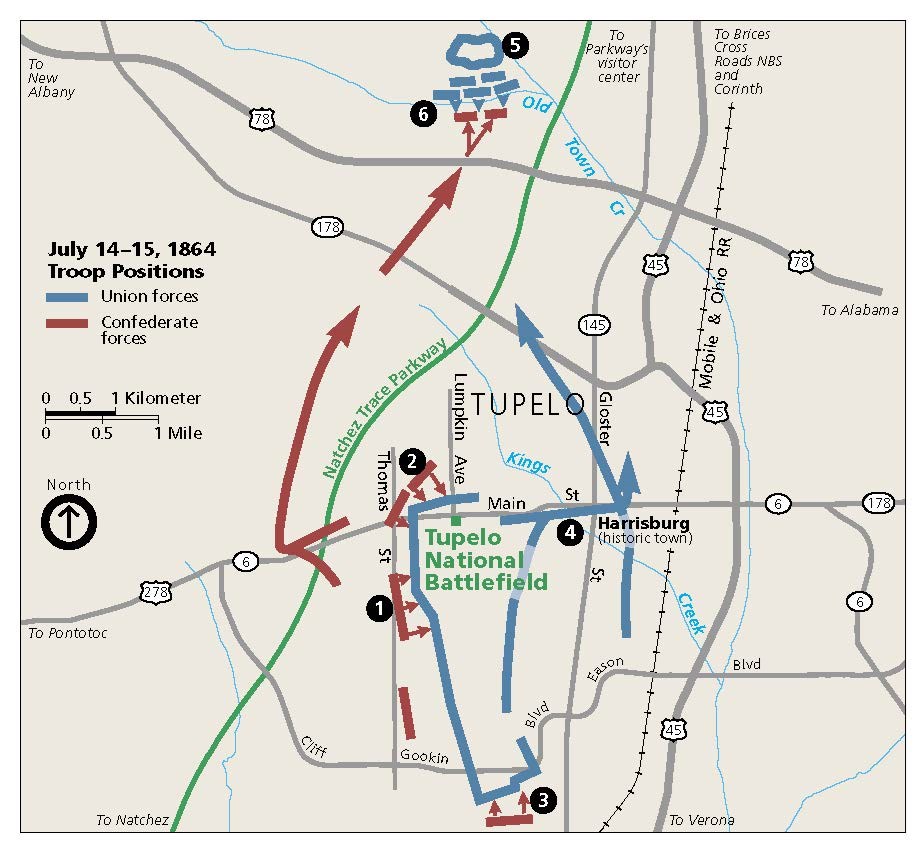 The bold numbers in this text reference the numbers on the map.
On the morning of July 14, the Battle of Tupelo began here (1) at 7:30 a.m. when the Confederates began a series of uncoordinated charges against the Federal position. These attacks were beaten back with heavy losses. Failing to break the Federal center, the Confederates attacked the Federal right, (2) again without success. After dark, the Confederates made another attack from the south (3) without significant effect. Although his troops had repulsed several Confederate attacks, General Smith (Federal) was alarmed. The heat was taking its toll on his soldiers. Also, due to bad planning, his men had little but coffee and worm-infested hardtack (crackers) to eat, and their ammunition supply was very low.
At 2 p.m. on July 15, after skirmishing with Confederates on the western and southern fronts, the Federals began marching north in the direction of Memphis. (4) They marched four miles and crossed to the north side of Old Town Creek and camped in the late afternoon. (5) At 5 p.m., from a commanding ridge south of Old Town Creek, Confederate forces surprised Smith's troops with artillery and infantry fire. The Federals scrambled and formed a line that pushed the Confederates off the ridge (6) and forced them to retreat to Harrisburg. The fight at Old Town Creek ended the Battle of Tupelo. Among the casualties was Forrest himself, who was kept out of action for three weeks.
Last updated: April 22, 2021