Things To Do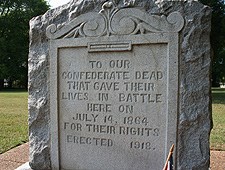 For many visitors standing at the one-acre memorial site it is difficult to imagine more than 20,000 soldiers, Americans, clashing in battle here in Tupelo, Mississippi. Today, the monument is surrounded by the bustle you might expect along any main street in a small city of 35,000 people. Although the opportunity to preserve the battlefield in Tupelo has been long lost, visitors can learn about the scope and impact of this battle that resulted in more than 2,000 casualties. For the student of the battle, the modern urban streets of Tupelo serve as landmarks that lead you to places where hundreds of men made the ultimate sacrifice.
Tupelo National Battlefield - There are two informational panels located on site that help explain the significance of the battle relative to Union General William T. Sherman's "March to the Sea" in Georgia.
Natchez Trace Parkway Visitor Center - Located in Tupelo (Milepost 266) six miles north of the national battlefield. Rangers here can provide a brochure and literature about the battle and help with questions. You can reach the Visitor Center at 800-305-7417.


Last updated: April 14, 2015