Cultural Demonstrator - Olinda Gonzalez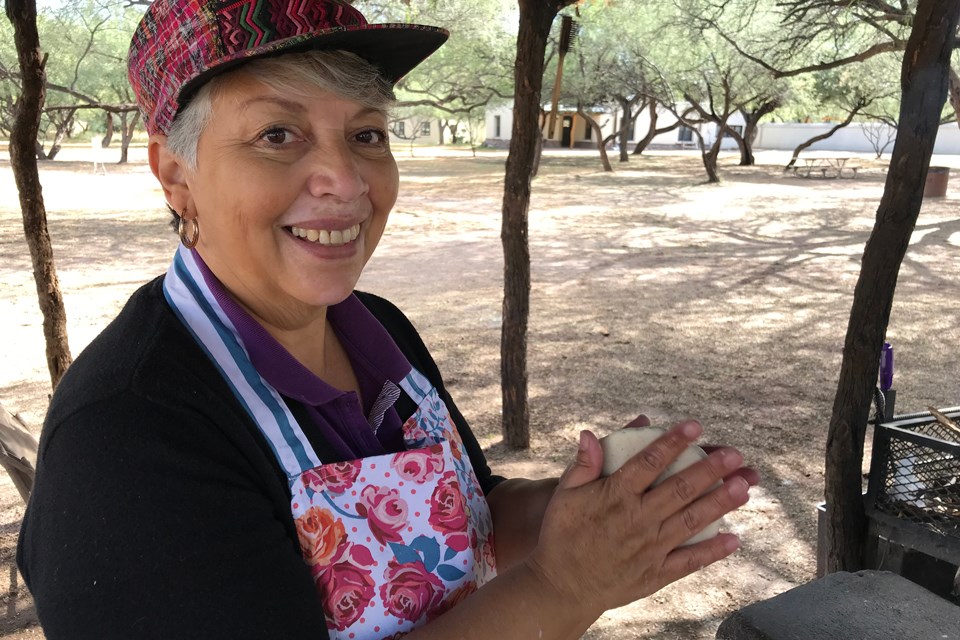 Olinda González grew up in La Antigua, Guatemala. Olinda's mother was a cook. Olinda spent a lot of time observing and helping her mom in the kitchen while she prepared each day's meals. Olinda remembers that when her mother cooked corn tortillas from scratch she would hand Olinda a "bolita de masa" (ball of masa) to practice patting out into a tortilla. Olinda's father would praise her on how good her tortillas were. As a child Olinda felt very proud to see that her father enjoyed eating the tortillas she had made.

According to Olinda, corn tortillas are eaten with every meal in Guatemala. Corn is a food staple and a fundamental part of Guatemala's culture that dates back to the ancient Mayas. Maya creation stories tell that human beings were created from yellow and white corn.
Special Recipes
Olinda's Tomato Salsa
3-4 fresh roma tomatoes
1/2 small onion
1/4 cup cilantro
1 jalapeno, seeded
dash of salt

Remove the seeds from the jalapeno chile. Place tomatoes, small onion, cilatro, and jalapeno in a food processor. Blend in food processor for about 30 seconds or until desired consistency. Add another jalapeno to increase spice level if desired.
Olinda's Dried Red Chile Salsa
6-15 dry red chile pods, stems/seeds removed and rinsed (California, Ancho, Arbol, or dry red chile of choice)
1 clove of garlic
1/2 small onion
salt to taste
water to desired consistency

Roast the chiles in a lightly oiled pan or griddle on medium heat (5 minutes). Place chile, garlic, onion, and cilantro in the blender. Blend for about 1 minute. Add water to reach desired consistency.
Olinda's Frijoles
3 cups dry pinto beans
water for boiling
1 tablespoon salt

Go through the uncooked beans a handful at a time and remove any small rocks. Cook in a pot with plenty of water. The water level should be about one inch above the level of the uncooked beans. Simmer over medium-high heat for about 2.5 hours. Add desired amount of salt to the pot and mix the beans well, allow to cook for another 10 minutes. Let the cooked beans cool and then store in the refrigerator for up to a week.

Refried beans:
Heat a small amount of oil or lard (1 tbsp.) on medium heat in a deep skillet. Add 2 cups of cooked beans. When the beans start to boil use a bean/potato masher or the back of a wooden spoon to mash the beans.

Serve beans on a fresh corn tortilla with a little bit of sala and enjoy!
Last updated: September 27, 2020