Cultural Demonstrator - Mayra Cortinas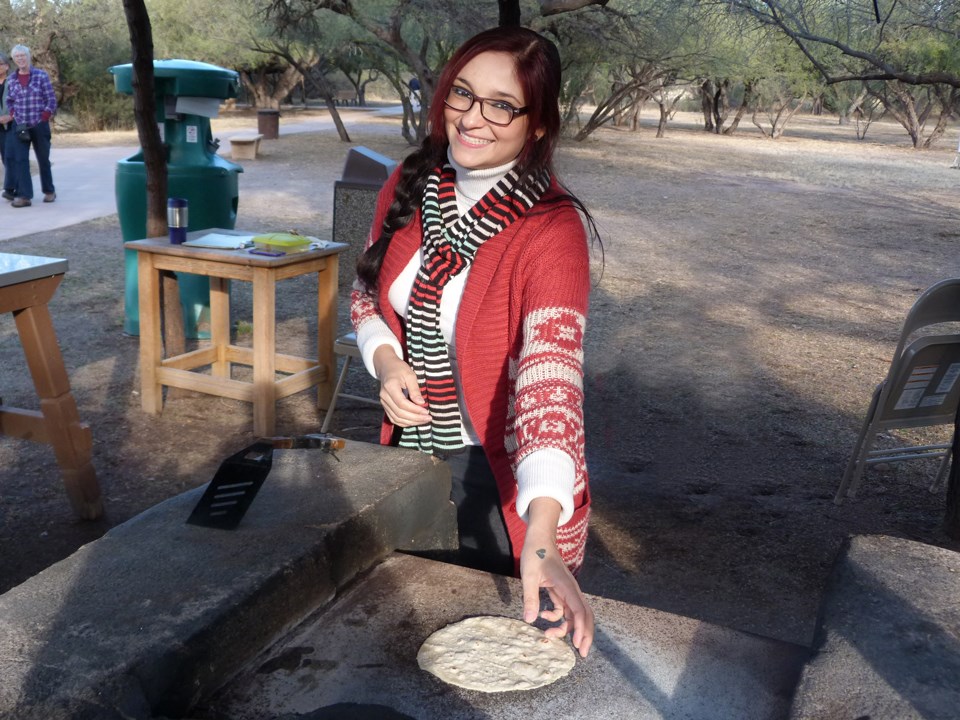 Mayra Cortinas was born and grew up in Nogales, Sonora, Mexico. She moved to the U.S. in 2001. Mayra learned how to make tortillas at a very young age. She recalls her mother handing her and her siblings each a ball of masa (dough) to practice with and create mini tortillas. Mayra has many fond memories of her childhood, including observing her mother while she cooked on the wood stove, the smell of the wood fire, and the flavors of her mother's dishes. Mayra enjoys the peacefulness of Tumacácori National Historical Park and sharing her culture with park visitors.
Special Recipes
Mayra's Beans
6 cups water
4 cup pinto beans (uncooked)
1 tablespoon salt

Each cup of dry uncooked beans yields approximately 3 cups of cooked beans.
Go through the uncooked beans a handful at a time and remove any small rocks. Cook in a pot with water. The water level should be about one inch above the level of the uncooked beans.

Simmer over medium-high heat for about 2.5 hours. Add desired amount of salt to the pot and mix the beans well, allow to cook for another 10 minutes. Let the cooked beans cool and then store in the refrigerator for up to a week or freeze for up to a month.

Refried beans:
4 cups cooked beans
¼ cup olive oil
(optional) ½ pound cheese (Monterrey) shredded

Heat olive oil in a skillet.
Add 4 cups of cooked beans into the skillet and bring to a soft boil. Use a bean/potato masher or the back of a wooden spoon to mash up the beans.
Add the shredded cheese to the beans and mix well to prevent beans from sticking or bunring.
Remove from heat and serve warm.
Mayra's Jalapeño Salsa

5-6 Roma tomatoes, rinsed
3 jalapeños, stemmed
1/2 cup white onion (about ½ medium onion), chopped
1/4 cup fresh cilantro leaves, chopped
1 clove garlic, minced
Salt, to taste

Place tomatoes and jalapeños in a pot, and cover with water. Bring to a boil, and cook until jalapenos turn light green, about 15 minutes. Drain well, and place in a blender with the onion, cilantro, garlic, and salt. Puree to desired consistency and chill.

Serve on burritos or eat with corn chips and enjoy.

Last updated: September 27, 2020