Cultural Demonstrator - Carmen Espinosa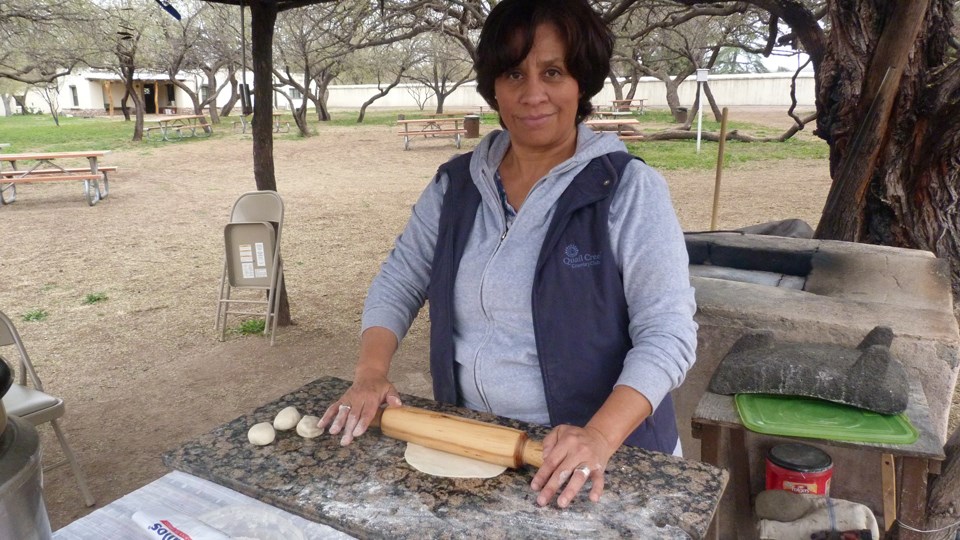 Carmen comes from a long line of cooks. Carmen has fond memories as a young child, of cooking and making tortillas. She recalls helping her nana (grandmother) Carmen Chavez in the kitchen, and accompanying her mother, Carolina Arizpe, and grandmother to make tortillas at Tumacácori National Historical Park. Both her mother and grandmother have worked as demonstrators at Tumacácori, sharing their traditions with the public. As a child she never imagined she, too, would also work as a demonstrator at Tumacácori, but she is honored to be here. Carmen feels proud to be able to say that she learned these traditions from her mother and nana, and she hopes that her grandchildren will one day share this feeling and say they learned these traditions from her.
Special Recipes
Carmen's Salsa:
1 cup dried Chile de Arbol (also know as bird's beak chile)
1/3 cup water
1/2 tablespoon salt
pinch fresh coriander/cilantro

Chile de arbol is up high on the chile heat index (between 15,000 - 30,000 Scoville units). This hot red salsa is a perfect addition to a meal for someone who enjoys hot chile!

Remove the stems from the dried chile de arbol and boil in water for about 10 minutes. Let the chiles cool after boiling. Strain the chiles out of the water but save this water for later use. Place the cooked chile, salt, and coriander/oregano in a blender. Pour a small amount of the water used to boil the chiles into the blender. Blend until smooth. Add water as needed to reach desired consistency.

Carmen's Frijoles:
3 cups dry pinto beans
water for boiling
1 tablespoon salt

Go through the uncooked beans a handful at a time and remove any small rocks. Cook in a pot with plenty of water. The water level should be about one inch above the level of the uncooked beans. Simmer over medium-high heat for about 2.5 hours. Add desired amount of salt to the pot and mix the beans well, allow to cook for another 10 minutes. Let the cooked beans cool and then store in the refrigerator for up to a week.

Refried beans:
Heat a small amount of oil (1 tbsp.) on medium heat in a deep skillet. Add 2 cups of cooked beans. When the beans start to boil use a bean/potato masher or the back of a wooden spoon to mash the beans.

Serve beans on a fresh corn tortilla with a little bit of red salsa and enjoy!
Last updated: September 27, 2020