Calabazas & Guevavi Tours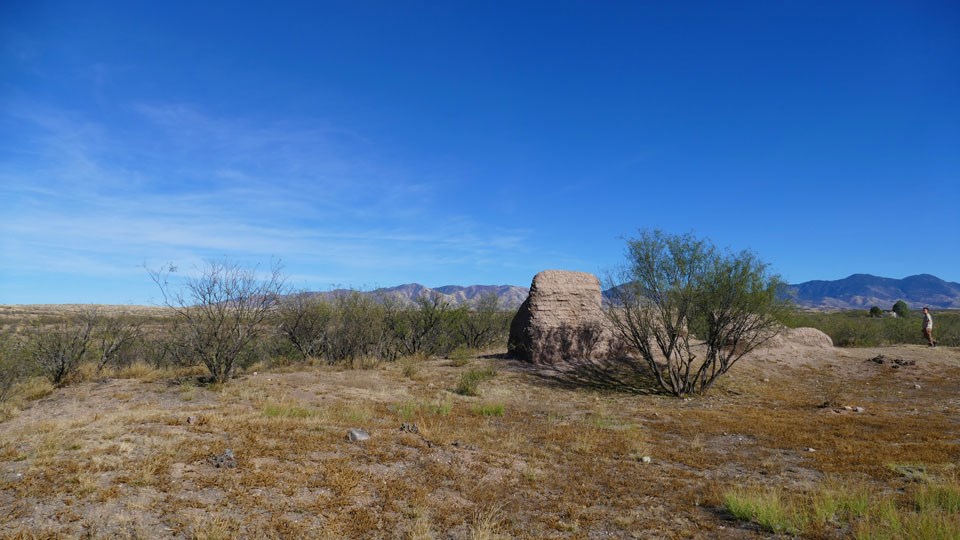 Tumacácori National Historical Park protects the ruins of three Spanish missions along the Santa Cruz River between the present day towns of Nogales and Tubac, Arizona. Two of these missions are not open to the public, and can only be visited on a reserved tour. As a participant in this special tour, you will visit the ruined remains of the two closed missions and learn about the lives of the people who lived there.
A Brief History
Jesuit Father Eusebio Francisco Kino first visited the O'odham communities of Tumacácori and Guevavi in January of 1691. With that visit, the two villages officially became Missions of the Spanish government. Father Kino chose Guevavi as the cabecera, or headquarters church, from which a resident priest would serve the surrounding mission communites. Many years later, in 1756, Father Francisco Pauer of Guevavi gathered together residents of O'odham communities between Guevavi and Tumacácori to create a new mission village, which he called Calabazas. Guevavi remained cabecera for the region until the arrival of the Franciscan missionaries, who transferred their headquarters to Tumacácori by 1770, shortly after taking over management of the missions in the wake of the expulsion of the Jesuits from New Spain. As the everpresent threat of attack by Apaches grew, people gathered together for protection. In 1775, Los Santos Ángeles de Guevavi was totally abandoned. By the end of the 1780s, most of the residents of Calabazas had moved to San José de Tumacácori, and San Cayetano de Calabazas had been converted into a stock ranch for the Mission. Tumacácori remained the cabecera for the region until the mission's last resident priest was deported by the new Mexican government in 1828. Village residents remained, caring for their church without a resident priest, for another twenty years before finally abandoning the mission in 1848.
The Mission Tours
The tour meets at the Tumacácori Visitor Center.
(New for 2021) Participants will caravan in their own vehicles to Guevavi and Calabazas. At each site, a ranger provides an interpretive walking tour. Participants walk on unpaved trails to reach the mission ruin at each site, including one section of rough uphill trail at Calabasas.
Vehicle Requirements
A high-clearance vehicle (and a bit of confidence) is required in order to navigate the road to Guevavi.
Personal Requirements
THESE TOURS ARE NOT WHEELCHAIR ACCESSIBLE. Participants must be able to walk on hills and rough trails, and to stand and walk for up to an hour at a time. There is no seating other than while driving between sites. There is no shade or shelter along the trails. You will need water, snacks, clothing appropriate to the weather, and comfortable walking shoes. There will be one restroom stop midway through the tour. No food or water is available. There is no shade or shelter along the trails. You must be prepared for the weather.
Once the tour has returned to Tumacácori, participants are invited to visit the Tumacácori Mission church and grounds, visitor center, and museum on their own, at no additional charge. A self-guided tour booklet is available and guided tours of Tumacácori are provided each day at 11:00 a.m. and 2:00 p.m. and other times as available. Inquire at the visitor center desk.
How To Reserve
(New for 2021) Advanced reservations are required, and a non-refundable fee of $15.00 per vehicle is charged. Reservations are made through www.recreation.gov.
Dates
3rd Saturday of the month, 9:00 a.m. - 1:00 p.m.
January through March.
Additional dates may be available. Check the park's Calendar for options.
Last updated: September 27, 2020