Ruda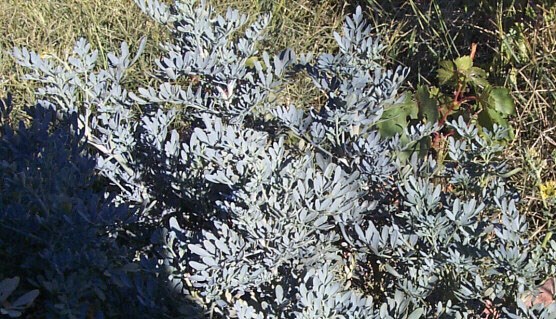 Ruda - Prairie Clover -(Dalea foliolosa)
---
Warning: the remedies and preparations listed below come from oral traditions and are not clinically proven. Do not attempt self diagnosis or self treatment with any of these uses without first consulting your doctor.
---
Parts used: Leaves and stems
Ruda is good to expel parasites, relieve earaches, relieve menstrual cramps, and eliminate mucus in the throats of newborn babies, and for colic in newborn babies. It also helps when the babies are teething. It can also be used as a tea when a person is weak and has hiccups. DO NOT USE IF YOU ARE PREGNANT.
Preparation for earaches: Fry a sprig of ruda in a pan over low heat with oil or rendered chicken fat for a few minutes. Then strain the oil out and save it in a small bottle. Place 1-2 drops in the ears as needed for pain.
Preparation for weakness and hiccups: Prepare a tea and drink a cup. See "Combinations" below.
Preparation for a tincture: Make a tincture by putting ruda, rosemary, and flowers of vinorama into alcohol or vinegar. Rub on body when it is feverish, for neuralgia, migraines, and body aches.
Combinations: Put one or two cups of water in a pot and heat. Put one bar of the Abuelita type of chocolate in the water. As it dissolves, add ruda, star anise, cinnamon and rosemary. Separate two or three egg whites from the yolks and beat the whites until they are stiff and white, like soapsuds. Add the yolks and continue to beat them for a couple of minutes, and then add them to the cooled chocolate mixture. Add a little wine, if desired. Yerba buena tea can be added instead of the rosemary. This gives strength for a weakened condition. It is good for hiccups also.
---
To return to Gloria's page click (
here
).
---
Last updated: February 24, 2015