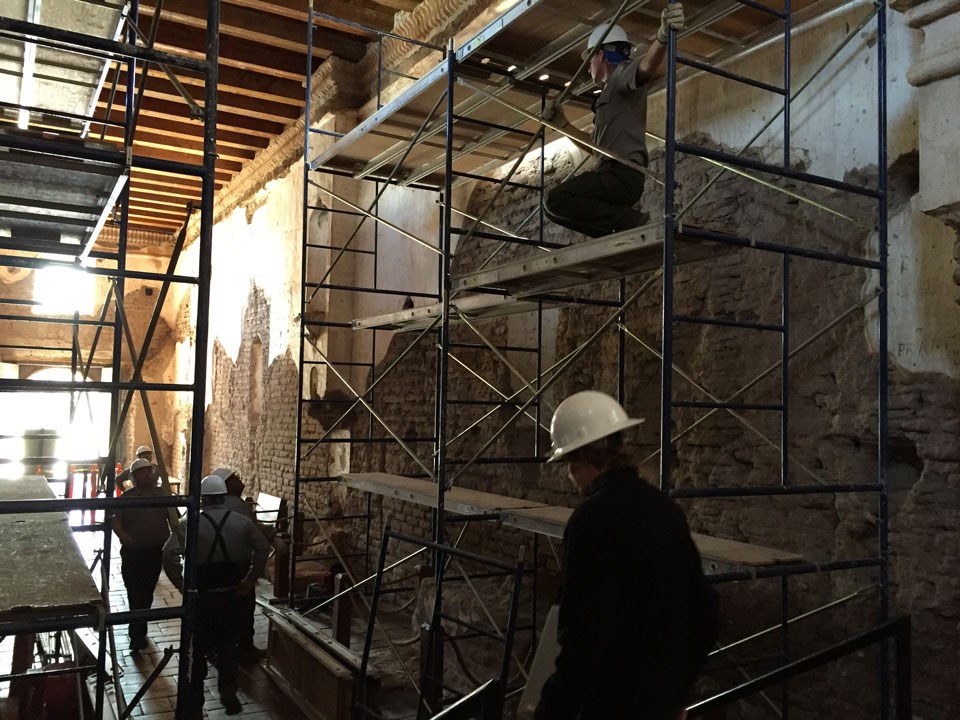 The National Park Service collects Recreation Fees under the Federal Lands Recreation Enhancement Act (FLREA). Recreation Fees provide a vital source of revenue for improving facilities and services for park visitors.
That means that the money you hand the ranger at the visitor center, is being put to use in Tumacácori to make the park—and your visit—better. Some improvements take place behind-the-scenes. Others may be a direct part of your park experience, like an exhibit, an accessible trail, or the tortilla ramada. All of these projects are important to the continued preservation of your national parks. Thanks to all of you that have paid an entrance fee or bought a park pass at Tumacácori.
This is a list of just some of the things your contributions have made possible:
Replace failing lime shelter coat on mission church
TUMA preservation staff removed and replaced disintegrating, detaching and cracked lime plaster coats on the Mission Church, Mortuary Chapel, Granary, Convento, and surrounding historic Campo Santo wall. The new plaster is a monolithic protective coat with extended service life. The existing plaster had outlived the original replacement cycle of 5 to 7 years and it has been almost 10 years since the entire protective coat has been replaced.
Improve visitor experience by performing maintenance along riparian trail (Anza Trail)
Annual monsoons take a toll on the trail and cause hazards to the visitors. Improve the condition of existing social trails by clearing hazardous debris so that they can be formalized by the park and integrated into the overall visitor experience of the park. This will provide increased access for recreational activities along the Santa Cruz River. Youth crews will be used to clean trash from the riparian area and maintain/build new recreational trails to increase access and improve visitor experience along the Santa Cruz River.
Improve Visitor experience with integrated resources intern
This project will provide for an intern to help educate the public about these ruins preservation activities. In addition, the intern will interpret natural resources for visitors. The intern will conduct approximately 10 nature walks along the Santa Cruz River with visitors, interpret bats and mist netting during our annual "bat night," and help with 3 or more river clean up days that aid in habitat restoration along the Santa Cruz River with visitor involvement. The intern will also participate in less formal interpretive events like bird walks and wildflower talks. Tumacacori sees over 45,000 visitors per year and almost all tour the mission and other adobe buildings.
Replace Outdated Orientation Film for Tumacácori Visitor Center
This project would produce a 10 to 15 minute film utilizing new research, information, and technology. The video will be produced in Spanish and English and will be fully ADA compliant, with captions, assisted listening, and audio description. Components resulting from the production of the film will be used by the park to create digital applications for personal devices.
Resurface and Expand Main Visitor Trail at TUMA for Improved Access And Safety
Resurface the main visitor trail at the Tumacacori unit of the park and make it fully accessible per Americans with Disabilities Act(ADA)guidelines. In addition to resurfacing the existing trail, there is a need to expand this trail to guide visitors to other important features of the mission compound, including the mission garden, acequia, orchard, and the Juan Bautista de Anza NHT-- all acquired as a result of the recent expansion of Tumacacori.