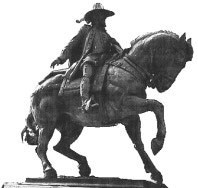 Politics during mission times, as now, played an important role in how people related to one another. In business, in religion, and in personal relationships, the political leaders could wield great power.
Gabriel Prudhom Butrón y Mujica
He was next to the last Alcalde Mayor of Sonora before the first governor was appointed. He established the Royal Mining Camp of Nuestra Señora de la Limpia Concepción de Agua Caliente in 1735 near the Arizona Ranch owned by Bernardo de Urrea.
Juan de Mendoza
Governor of Sonora, he was wounded in the throat by a Seri arrow near Saracachi, Sonora. He was brought back to Horcasitas and died a few days later on November 27, 1760.