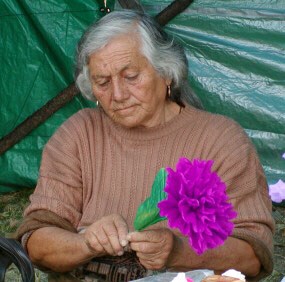 Raised near the Yaqui River in southern Sonora, Mexico, Gloria's mother was Mayo Indian, her father a Yaqui shaman. As a little girl she was taught about native plant usage by her father, who was concerned that the old ways were being lost and desired that his daughter carry on the Yaqui traditions. Gloria knows literally hundreds of plants that grow in Sinaloa, Sonora, and Arizona and their usage as food and/or medicinal plants. Self-educated, Gloria taught herself to read and write. Now she is teaching her vast knowledge of the plants to staff and volunteers at Tumacácori National Historical Park, as well as cancer researchers at Brigham Young University.
While oral tradition among the native peoples teaches that the plants listed below can be used for the corresponding remedies, please bear in mind that they have not been clinically tested and you should not attempt to diagnose and treat yourself with any herbal remedies without first consulting a doctor of herbal medicine. Because of the harshness of their environment, many desert plants contain chemical combinations that can be used medicinally, but these compounds are often in such potent amounts that they render the plant highly poisonous and deadly if used incorrectly or without proper precautions.
The list of plants below is an attempt to show the vast knowledge of Gloria and her Yaqui ancestors and to help researchers in their quest to find and produce better medicines. More will be listed as information and pictures become available. Gloria is presently working with Alice Garate to produce the said information, but it is a painstaking process to translate the oral Spanish traditions into written English, especially where neither of the two ladies speaks the others language.
The following list of precautions for all native plant usage, as set down by Gloria, should be adhered to closely:
1. Everything you gather must be washed well before you use it.
2. Generally, a handful of fresh plant to a liter of water (boiled) is good for teas. A teaspoon of dried material to a cup of water is good.
3. Any reddish bark is good for the respiratory system.
4. If the birds eat it, then it is okay for people to eat.
5. When gathering plants make sure that you look at what is growing around the plant you intend to pick. Sometimes plants growing nearby can be poisonous and can cause some of the poisons to go into the soil, which are then picked up and taken into the surrounding plants through their root system.
6. Always have a professional diagnosis when you are ill and thinking of using herbal remedies. Do not diagnose yourself.
7. Herbs are used in groups of three together most of the time.