Tumacácori and Tubac: 1 Day, "Tu" Parks

Tumacácori and Tubac
Learn about Arizona history where it happened!
Two historical sites only minutes apart bring state standards to life.
Includes science, art, geography, mathematics, language arts and more.
Explore, discover, problem-solve, and create.
All grade levels welcome
At least 1 chaperone per 10 students required
Tumacácori National Historical Park
There's nothing like the sights, smells, and sounds of the real thing. You can enhance your classroom studies of subjects like history, mathematics, art, science, and geography by visiting a national park -- the original primary source.
Tumacácori engages kids onsite by offering inquiry-based learning experiences.

Transportation grants may also be available for qualifying schools.

Explore Tumacácori's field trips
Tubac Presidio State Historic Park
Tubac Presidio was a military outpost that fostered a the growing community of Tubac.

Meet STEAM learning objectives while discovering frontier life in Southern Arizona. Visit a historical schoolhouse and an underground museum. Explore the restored Rojas Hall to witness adobe home living in the 1800's, and the historic Otero Hall with the world's only ambulance wagon on display.

Your students will have the opportunity to dress in 1800's period clothing, design their own mode of transportation, and immerse themselves into the past.

Explore Tubac's field trips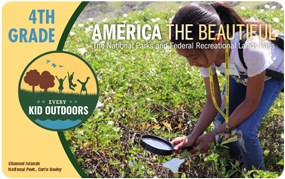 Attention 4th Graders!
Your class may qualify for free transportation and a Every Kid Outdoors passes for free entrance to public lands.
Download the Transportation Grant (.pdf, 839kb)
Learn about Every Kid Outdoors and 4th grade passes.
Last updated: July 28, 2022