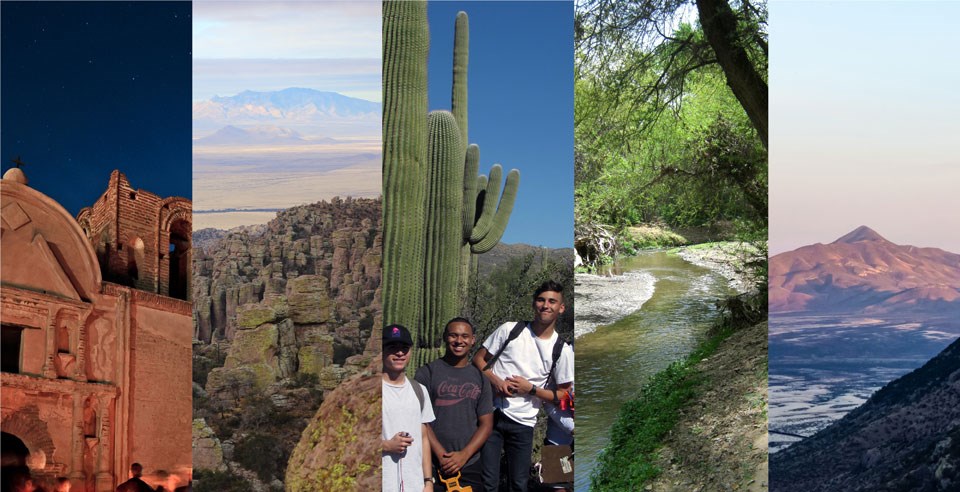 Southern Arizona Youth Outdoor Summit (SAYOS)
(see you back here next year!)
Sunday October 8th - Saturday October 14th, 2017

A "youth summit" is a chance for parks and young neighbors to share experiences, ideas, and problem-solving. Through a week of camping, exploring, and volunteer service, participants will examine real-world issues at stake in public lands across southern Arizona.

The youth summit is 100% free and open to any current high school student in Santa Cruz, Pima, or Cochise County. All travel, gear, and meals will be provided. Graduates of the summit will receive an Interagency Annual Pass, providing free entrance to all national parks and federal lands for a full year, as well as 60 hours of community or volunteer service credit.
Frequently Asked Questions
What is a youth summit?
It's a chance for parks and young neighbors to share experiences, ideas, and problem-solving. Participants will examine real-world issues at stake in public lands across southern Arizona.
How it does it work?
Each park (Saguaro, Tumacácori, and Coronado) recruits and assembles a small cohort of high school students from its local area. The cohorts meet locally on the first day, then travel with their cohort leader to the first park site where the whole group will assemble. The full group will spend the week traveling, camping, and working together at different park sites in southern Arizona. Each site visit includes a service project, educational programming, and site-specific question.
Having examined 21st century issues and challenges of national parks in their neighboring communities, participants will share their experiences with park and local officials to recommend steps to take for the future.
Who else will be in my group?
Each local cohort will have 3-5 participants. You may know other members of your cohort or you may meet them for the first time on Family Night on September 27th. Selection is based on enthusiasm and leadership qualities, not academic performance.
How much does it cost?
Nothing! The only cost to you is your time.
What's in it for me?
Besides fond memories, great friendships, adventure, and lots of great bragging rights to put on a college application, graduates of the program will also receive:
An annual pass for free entrance to all national parks and federal fee areas
60 hours of volunteer/community service credit

An opportunity to network with professionals in many different career fields
How do I get there? When will I be away from home?
The National Park Service will be providing all transportation to national park sites. Expect to be ready to leave your local dropoff site by 7am on Sunday, travel with the group throughout the week, and pickup by your family in Tucson for Saturday afternoon's graduation ceremony. You will likely be home by 6pm that day.
What are we eating?
Food is important! Expect hot dinners, basic lunches and snacks, and energy-sustaining breakfasts. We aim for tasty, nutritious, and travel-appropriate meals. If you have dietary restrictions, please note them on your application.
What about my phone?
We all live in the 21st century where phones are part of life. However, you may not always have a signal or opportunity to use your device as you are accustomed. Consult the sample itinerary and you'll get a sense of how much of the day will be available for plugging in.
What if something comes up and I realize I can't make the trip?
Contact your local National Park Service cohort lead to figure out if and how you should remain in the program or yield your spot to another participant.
Can I invite friends and family?
Parents, family members, and friends are invited to Family Night on September 27th and again to the Graduation Celebration on October 14th.
Is it dangerous? What if I get hurt?
Signing the Agreement for Individual Voluntary Services entitles you to medical coverage under the Office of Workers Compensation. Any illness or injury you receive while working within the bounds of your volunteer agreement would be fully covered. Your emergency contacts will be called and you will be taken to the nearest medical care facility.
My parents seem nervous about this. What should I tell them?
Family members will join you to meet your teammates and National Park Service leader at Family Night on September 27th from 6:00 p.m. to 8:00 p.m. It'll be a great opportunity for them to get their questions answered before the first campout. Of course, your local leader is available by phone or email during the application process as well. If your parents need to get a message to you during the trip, they can communicate with park staff to pass along any messages that might be urgent.

When will I find out if I got in?
By September 8th.

Who should I contact if I have other questions?
Pima County
Melanie_Rawlins@nps.gov


520-377-5064
Coronado National Memorial
Kimberly_Wentland@nps.gov

520-366-5515