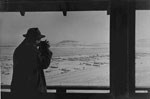 Robert H. Ross, son of missionaries, spent his childhood years in Japan where he developed an appreciation for Japanese culture, history and fluency in the Japanese language.
Ross was employed by the War Relocation Authority at the Tule Lake Segregation Center where he worked as a reports officer and part-time as the official photographer for Tule Lake. He is known as the photographer who captured dramatic photos of the protest groups, and those of the WRA/Army/INS personnel rounding up dissidents for maximum security incarceration.
The pictures of Japanese Americans being forcibly removed by government agents and prisoners in the stockade jail were photographed surreptitiously and given to lawyers at the Northern California ACLU as evidence that the rights of Tule Lake's inmates were being violated.
A lifelong supporter of the ACLU, after the war, Ross settled in the San Francisco Bay area and taught secondary and post-secondary students.
The images in this collection are from the book "Kinenhi, Reflections on Tule Lake." The images are made available here courtesy of the Robert Ross Family and the Japanese American National Museum.