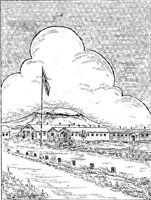 The Tule Lake experience was well documented in print by the WRA Administration, the Japanese Americans living in the camp and by the military who were there as guards. Examples of administration documents, the Tulean Dispatch, Newell Star and the Camp Tulelake Guardsman are listed below.
Sample WRA Administration Publications
This copy of the Employee Handbook (published in 1944) covers everything from employee housing styles and costs to what kinds of entertainment was available in the area. We are publishing this here courtesy of the
Shaw Historical Library.

Tulelake Employee Handbook, 1944 (pdf)>