Trail of Tears DVD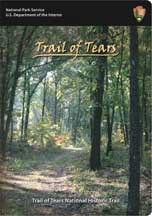 The National Park Service is proud to share Trail of Tears, produced in collaboration with the Cherokee Nation.
Trail of Tears exposes one of the darkest chapters in American history: the forced removal of the Cherokee Indians from the southeast United States to a new home in the West, and the Cherokee people's determined struggle to maintain their cultural identity.
Watch online:
The Trail of Tears DVD can

easily be found on YouTube by searching Trail of Tears.

The Trail of Tears film has been audio described.
Watch this short video with Cherokee writer Shane Smith. He shares how this film came to be, while a narrator with video clips gives the viewer snippets of the Trail of Tears story (1:44 minutes).
The 23-minute DVD that tells the story of the Trail of Tears is available for free. To request one email us.
Last updated: January 27, 2020