Unveilings for "Cedar Town Camp" exhibits and Spring Cave Original Route Signage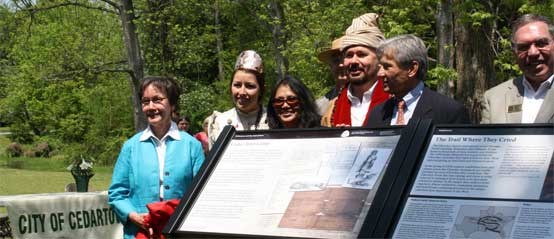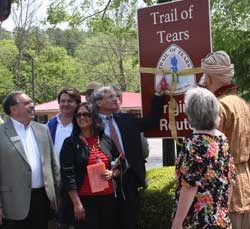 On April 19, 2011, hundreds of people gathered for the unveiling of exhibits about Cedar Town Camp, a Cherokee removal camp in Georgia, which was a part of the Trail of Tears. The group also drove a segment of the original, historic route to dedicate Trail of Tears National Historic Trail Original Route signage at Cave Spring, where a Cherokee cabin was recently rediscovered.
View the exhibits:
Removal Camps and the Trail of Tears
News article:
Trail of Tears sign unveiled at Big Spring Park
Excerpt from article (link above): Georgia and Oklahoma Native American officials joined historians, Cedartown and Polk County elected officials, National Park Service officials, and those from the Georgia Chapter of the Trail of Tears Association at noon Tuesday to dedicate an interpretative sign along the creek just off of Wissachikon Avenue in Cedartown...
Last updated: January 27, 2020