Trail of Tears Association Newsletter
Check out the latest news from our friends and partners!
National Historic Trail Newsletters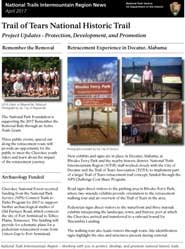 Spring 2017
: Planning for the Remember the Removal Ride events, archaeological updates, exhibit project completion in Alabama, new research, work scheduled for 2017, map data, compliance e-blasts update.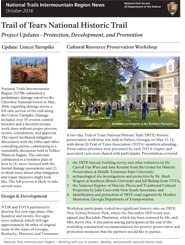 Fall 2016: Check out the NPS Centennial event, the cultural resourse preservation workshop, Columbus-Belmont State Park news, certifications, plus team updates.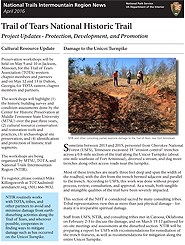 Spring 2016: What happened on the Unicoi Turnpike in Tennessee? Check out the two preservation workshops in Tennessee. Local itineraries are the new rage! Another state brochure rolls out. Hamburg Hill in Illinois gets a design charrette.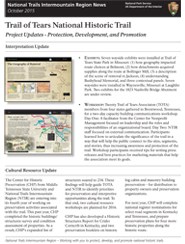 Fall 2015: Find out about 16 new wayside exhibits; cultural resource historic buildings/structures survey and condition assessment of Trail of Tears properties; sign plans, a charette, and retracement trail development; new staff; new state brochures; and a Find Your Park entry.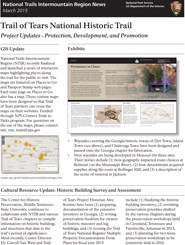 Spring 2015: The new GIS interactive map for Places To Go and Passport Program is fantastic! See what's new for exhibits and road signs. What's up with the NTIR staff? Who's newly certified?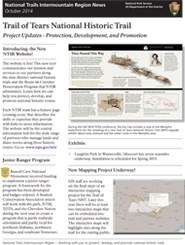 Fall 2014: Find out what's NEW for the trail: a GIS interactive map, a NTIR website, a junior ranger program, exhibits, road / pedestrian signs, a rack card, and certifications.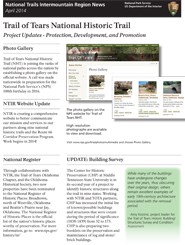 Spring 2014: Check out this issue for the new photo gallery, an update on the building survey, new national register properties, and road signs cropping up across the trail.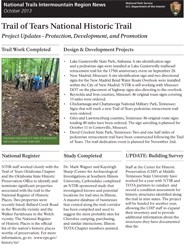 Fall 2013: Peruse this issue: Design and Development have been busy finishing six projects in Missouri, Tennessee, and Alabama. There are two new National Register properties. Five wayside exhibits were installed in Missouri and Georgia while nine more exhibits are in progress in Georgia and Tennessee. There are three new certifications in Georgia and Tennessee. And congratulations are in order!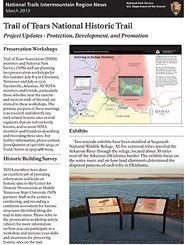 Spring 2013: Find out about two preservation workshops, the historic building survey, five exhibit projects in Georgia, Oklahoma, and Missouri, a host of design and development projects, new certifications, and state brochures for Georgia and Tennessee.
Last updated: January 27, 2020