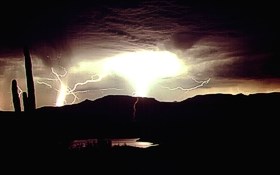 Winter
Winter temperatures at Tonto National Monument are usually pleasant with highs in the 60s (15° - 21°C). The winter rainy season is January/February. Snow, though rare, is not unheard of.

Summer
Summers at Tonto National Monument can be extreme, with highs in the 110s (+43° C). Be sure to wear sunscreen and a hat, and to carry (and drink) plenty of water.

Thunderstorms frequently occur during July, August, and early September. Lightning is a real hazard, since hikers are often the tallest object on the hillside.

Spring & Fall
Spring and fall can be the best times to visit. Temperatures are generally mild, and the weather is dry.

Click here for today's weather.