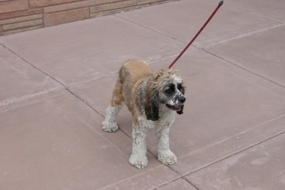 Pets are not allowed in the Visitor Center or in the Lower Cliff Dwelling. Leashed pets are allowed on the Lower Cliff Dwelling and Cactus Patch trails. Please ask park staff for more information.
Please clean up after your pets, and remember to take water for them when hiking.

Pets are not allowed on the Upper Cliff Dwelling trail.

Do not leave pets in your vehicle while you hike.