Heritage Days 2017
March 18 & 19, 2017 - FREE ENTRY
8:00 a.m. to 5:00 p.m.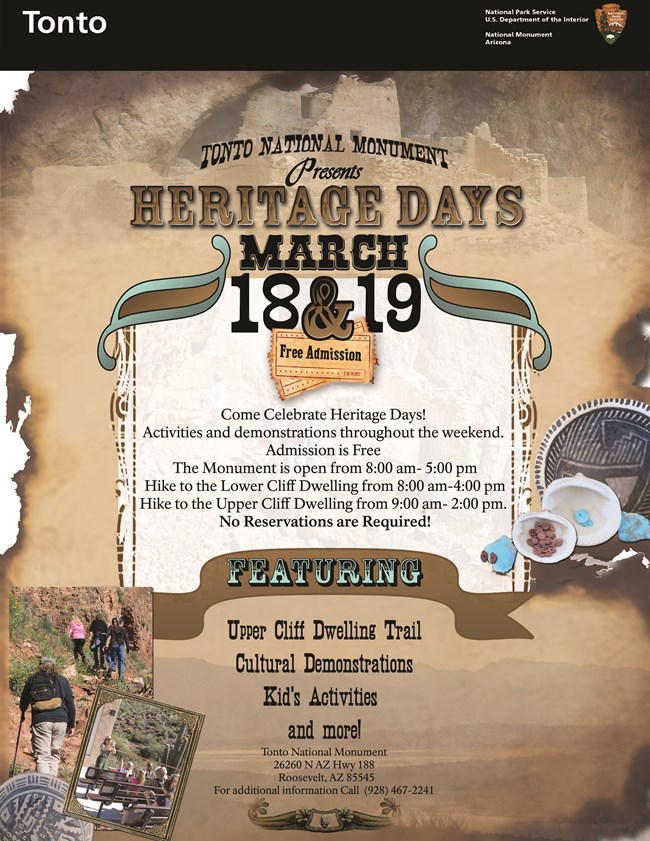 To celebrate Arizona Archaeology and Heritage Awareness Month, Tonto National Monument welcomes you to join us March 18th and 19th for Heritage Days.
Reservations that are normally required to visit the Upper Cliff Dwellings will not be necessary during this weekend. Visitors will be welcome to hike the 3-mile trail at their leisure from 9:00 a.m. - 2:00 p.m. Please be aware that this trail is unpaved, moderately strenuous and climbs 600 feet. Part of the trail passes through a wash with loose rocks, boulders, and running water. Please bring water, a hat, sunscreen, and wear sturdy shoes or hiking boots. Pets are not permitted on the trail and cannot be left in your vehicle.
The Lower Cliff Dwelling is a one-mile round trip trail, climbs 350 feet and usually takes 45 minutes to an hour to complete. The Lower Cliff Dwelling trail closes to uphill travel at 4:00 p.m. Pets are permitted, on a leash, on the Lower Cliff Dwelling trail but not in the dwelling.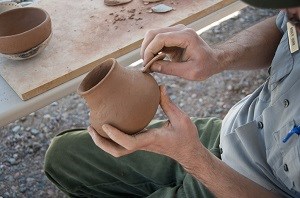 The fee free weekend will also include prehistoric technology demonstrations such as pottery making, fire starting, stone tools, flintknapping and more.
Apache crown dancers will perform in the Monument's outdoor Auditorium.
Last updated: February 14, 2017