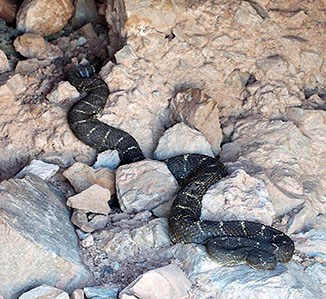 Arizona Black Rattlesnake (Venomous)
Crotalus cerberus
Body Length: 15 - 65"
Diet: Rodents, birds, reptiles, and amphibians
This rattlesnake often appears black with thin white, yellow, or orange cross bars on its back. Younger snakes are usually lighter in color, with brown spotches and facial markings on a light gray background. The neck is slender and the head is broad and triangular. At Tonto National Monument, they are rarely seen or found far from wooded canyon areas.
Learn more about Tonto National Monument's Arizona Black Rattlesnake Research Project.