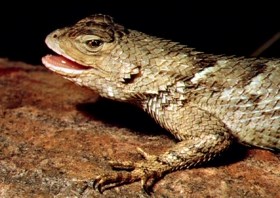 Clark's Spiny Lizard
Sceloporus clarkii
Body Length: 3 - 5"
Diet: Insects and some plant parts
Clark's spiny lizards are large, stocky lizards with large, pointed, keeled, or overlapping scales. They are often gray with blue accents on their body and tail and dark bands on their forearms.
These day-active lizards often flee into trees when they sense danger. If you chase after one, it may dart to the opposite side of the tree. If you circle around the trunk for a better view, the lizard will move to the opposite side again. The longer this game is player, the higher the lizard is likely to climb.