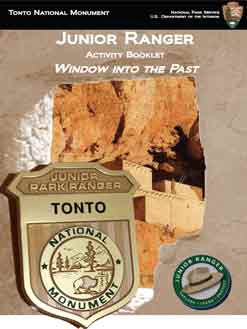 Become a Junior Ranger at Tonto National Monument!
There are four Junior Ranger programs to choose from; ask for a booklet at the visitor center front desk when you arrive. You can earn all four Junior Ranger awards during your visit!
Tonto National Monument Junior Ranger Program
To earn the monument's Junior Ranger badge, complete 6 activities for your age group.
Centennial Junior Ranger Program
Help us celebrate the National Park Service's 100th birthday by becoming a centennial junior ranger! To earn this badge, attend a ranger-led activity or watch the film, hike to the Lower Cliff Dwelling, and complete the required amount of activities for your age group. This program is available for a limited time only!