Be A Junior Ranger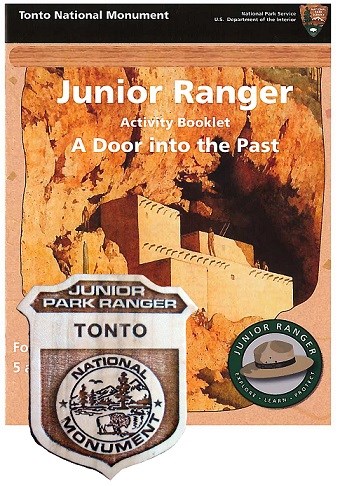 Become a Junior Ranger at Tonto National Monument!
There are four Junior Ranger programs to choose from; ask for a booklet at the visitor center front desk when you arrive. You can earn multiple Junior Ranger awards during your visit!
Tonto National Monument Junior Ranger Program
To earn the Monument's Junior Ranger badge, complete 6 activities for your age group.
Tonto National Monument Mini Ranger Program
The Mini Ranger program is designed for families with children 5 years and younger. To earn the Monument's Mini Ranger award, complete at least four activities as a family. This is an interactive program.
Arizona Junior Ranger Explorer
To earn this patch, you will need to visit four National Park Service sites in Arizona and fill out the travel log, complete the John Wesley Powell and Leave No Trace activities, and complete five other additional activities.

Night Explorer Junior Ranger Program
Learn about the Night Sky! To earn this patch, you need to complete the number of activities based on your age. Also, you will need to attend the Monument's Night Sky event or complete the "Take a Planet Walk" activity found within the activity book.
Last updated: May 1, 2020