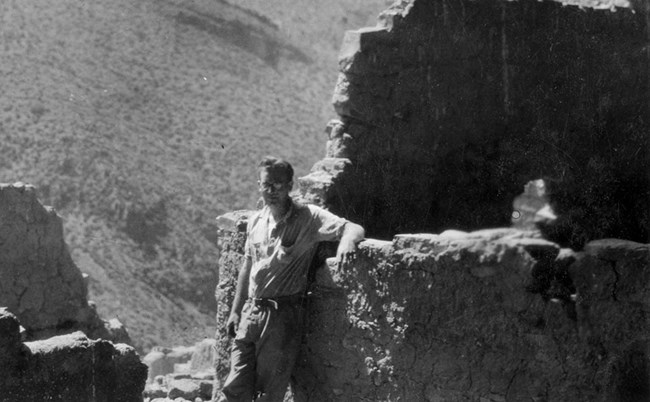 D. Herzner:
I wanted to interview you to document your oral history and hopefully use our conversation to show what a huge impact Tonto National Monument has had on some people and some people on the Monument. We all have stories to tell and your story is a unique one. Your grandfather took some of the earliest photos of the cliff dwellings at Tonto National Monument. What is your earliest memory of the monument? Did he tell stories of it? Did you visit as a child? What were your thoughts of it and has it changed from the pictures he had taken?
S. Wood: My earliest memory of the Monument is from the 1960s when I was in high school and had already decided to become an archaeologist. Even then [the cliff dwellings] looked a lot different from his photos. Unfortunately, [my grandfather] died when I was 12 and we never really had a chance to talk about his experiences.
DH:
What was your grandfather's occupation? Was he just a hobby photographer?
SW: When he lived in Roosevelt he worked for the Salt River Project as an oiler on one of the generators at the dam. Photography was one of his hobbies, along with collecting baskets and stuff from the Apaches who lived just down the road (which my Grandmother later threw away!), visiting ruins with Lyn Hargrave, and playing with his jazz band.
DH:
Did he take any photographs that stood out to you or impacted you?
SW:
The sequence of photos of the Savoia- Marchetti seaplane and its arrival and subsequent destruction at hotel Point in 1927. Great stuff!
DH:
How did you come to have the photos? Did he hand them down to you? If so, why you?
SW: My mother gave them to me years after he died, knowing that I was interested in the history and archeology of the Tonto Basin.